Custodian Daisy Nakaziro, Elizabeth Nakigozi part ways with FUFA Women Super League champions Lady Doves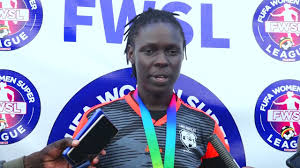 Custodian Daisy Nakaziro and Elizabeth Nakigozi have parted ways with FUFA Women Super League champions Lady Doves shortly after winning the historical first trophy for the club.
The duo have failed to reached a neutral ground for a new deal after the expiration of their contracts in June.
The custodian's short term deal expired and negotiations to renew her contract hit a dead end which led the two to furiously leave the Kasenge camp yesterday.
The 2020-21 Best FWSL goalkeeper Nakaziro and outfield star Nakigozi were part of the team in camp preparing for the Inaugural CAF Women Champions league Qualifiers set to be held in Nairobi Kenya this year.
Daisy Nakaziro joined Lady Doves FC in 2018. She skippered the believers to the FUFA Women Super league glory in 2020- 21 and named best Goalkeeper of the league twice. She was also part of the squad that lost to UCU Lady Cardinals in 2019 finals at Lugogo.
About Author