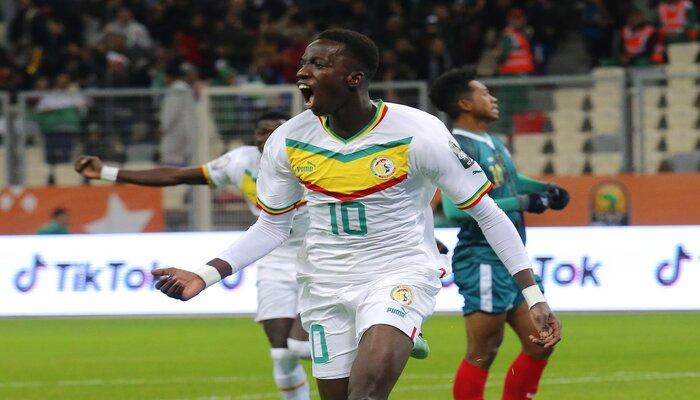 Papa Diallo scored the lone goal as Senegal edged Madagascar 1-0 to book a place in the final of the TotalEnergies African Nations Championship (CHAN) 2022 on Tuesday night at the Nelson Mandela Stadium in Algiers.
Diallo connected to a Mamadou Sane pass from the right to net a looping header past the Madagascar goalkeeper Zakanirina Rakotohasimbola commonly known as Nina who had gone off his line to score the tournament's earliest goal in the fifth minute.
Senegal built on this momentum to control the game on both ends of the pitch as they denied Madagascar any chance of being comfortable with the ball.
Moussa Ndiaye, who was in fine form, sent a well-placed pass to Diallo in the box but Nina was in the right place at the right time to deny the Generation Foot forward.
Senegal forward Cheikh Ibra Diouf then found himself in a one-on-one situation against Nina, but the latter was quick to block the attempt to further frustrate Pape Diaw's side who continued to ask questions of the Malagasy.
Malick Mbaye then stepped forward to beat Avizara Soloniaina and cut into the box and his pass to Diallo was perfect for yet another Senegal goal but Nina who put up a man-of-the-match performance denied him this time.
Madagascar continued to fend off the Senegal charge in the second half and when Cheikhou Ndiaye got to a lose ball from a corner kick, Soloniaina Rajo Nirina Razafindrabearimihanta commonly known as Berajo cleared but his diving header hit the crossbar to save Madagascar the blushes and avoid an own goal.
In the 83rd minute, Diallo beat the Madagascar defence and even though Nina left his line, Diallo's effort went over the bar.
The Barea whose attacking prowess led by Koloina and Tokinantenaina Olivier Randriatsiferana commonly known as Tsiry was questioned on the night as they sought rare scoring opportunities, but their efforts were not enough on the night.
Senegal held on to progress to their first ever TotalEnergies CHAN final and they will face the hosts Algeria on February 4th.