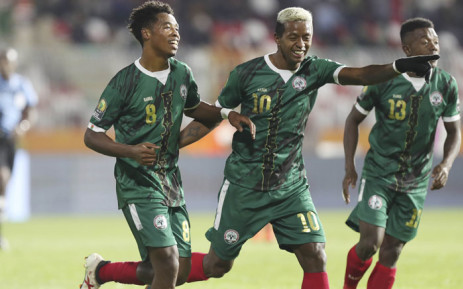 Madagascar cruised to the quarter-finals of the TotalEnergies African Nations Championship (CHAN) 2022 on Monday following a 3-0 victory over Sudan.
The Barea were in fine form right from kickoff attacking Sudan from all angles and were rewarded as early as the 13th minute when Tokinantenaina 'Tsiry' Randriatsiferana found his way behind the Sudanese defence to sneak the ball past Sudanese goalkeeper Mohamed Mustafa.
Madagascar whose opening play had bought them support at the magnificent Chahid Hamlaoui Stadium in Constantine, Algeria celebrated the lead vehemently but turned back in and sought to double their lead.
Solomampionona Razafindranaivo who was in the right place at the right time picked up a loose ball in the box from a Sudanese defender to find the back of the net and double the Barea's lead in fantastic fashion in the
Madagascar made it 3-0 thanks to a quality counterattack that saw Lalaina Rafanomezantsoa tap into an open net after the Sudanese custodian stepped off his line to try and stop the run.
Sudan had a couple of chances to get back into the game but found the same constraints that they have struggled with all tournament to be at their detriment.
Mohamed Abdelrhman Yousif could have netted when he came up against the Madagascar goalkeeper Zakanirina Rakotohasimbola in a one-on-one situation but the latter blocked his attempt away from range.
As Sudan continued to pursue goals upfront, Madagascar too were in a comfortable search for more goals but eventually the Barea walked away with their third victory at the continental competition for players that feature in their domestic leagues.
Madagascar and Ghana have qualified as first and second from Group C to the quarter-finals of the TotalEnergies CHAN 2022 edition.
Madagascar will face Mozambique in a COSAFA derby on 28 January while Ghana will have to wait for Tuesday to know their opponents who will be the winners of Group E – either Cameroon or Niger who face-off in Oran.
About Author