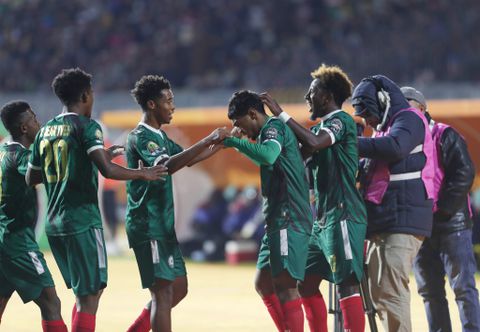 Madagascar head coach Rakotondrabe Felix Romuald says he never harboured any doubts about the capacity of his team going into the 2022 TotalEnergies African Nations Championship (CHAN) in Algeria.
The Barea defeated Sudan 3-0 at the Mohamed Hamlaoui Stadium in Constantine on Monday to finish top of Group C and qualify for the quarter-final of the tournament in their first attempt.
Though Madagascar are in their first participation in the competition, their trainer says they were confident about their chances.
"Before the start of the tournament I never had doubts about my team. I was worried about this game today because I watched Sudan against Ghana. All glory to my players," Romuald told the press in Constantine.
First half goals from Tokinantenaina 'Tsiry' Randriatsiferana, Solomampionona Razafindranaivo and Lalaina Rafanomezantsoa, were enough for Madagascar to ease pass Sudan, a score that was pleasant to Romuald.
"We had a good first half. The players did well. I am very satisfied with my players today. Our next game is against Mozambique. I have watched a few of their games on television. It's not going to be easy. Everything is possible. It's going to be 50 / 50."
Though Mozambique finished second in Group A, and also into their first quarter final, the Barea are not carried away by their Group C dominance.
"Mozambique finished second behind Algeria. It was a very difficult group with Libya and Ethiopia. We are prepared and have the advantage of staying here in Constantine. I hope the supporters will stand by us in the next match.
"We slowed down in the second half because we wanted to rest our players, especially our central defenders given we were leading by three goals in the first half.
When asked if Madagascar now stands a chance to challenge for the trophy, Romuald was keen to be humble.
"It's too early, we are in the quarter-final. We focus on that first. It's not because we won two games that we will talk about winning the trophy. We stay humble and remain focused on the next match.
"As we did today and in the game against Ghana, psychological preparation is key. It's not easy for the players. To some it's the very first time at this level, so we are doing our best to help them adapt.
"We went to Tunisia to prepare. We camped from December in Madagascar. I hope we continue in this manner. First we celebrate the win tonight, then turn our focus to the preparations for the quarter final.
Malagasy football has been on a steady rise for the past years. After their senior national team reached the quarter final of the 2019 TotalEnergies African Nations Cup in Egypt, their CHAN team is also doing well.
"True, our first team reached the quarter-final of the AFCON. It's the fruit of a lot of work back at home. Looking at our background we have always been eliminated from the start so we have had to do a lot of work to get here."
About Author