Breaking News: Daphine Nyayenga completes move to She Corporate FC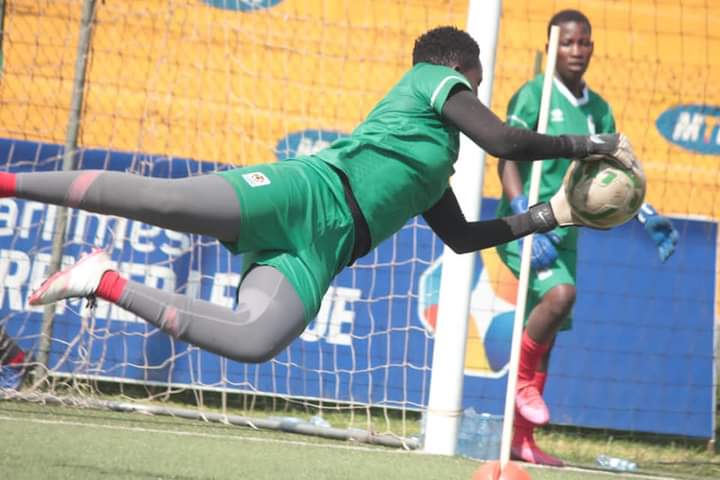 Photo by FUFA media
U-20 Women National football team custodian Daphine Nyayenga has completed dramatic her move to Women football Super League side She Corporate.
The gigantic goalie signed a two year contract keeping her at the club until 2024.
The goalie is currently with the U-20 Women national football team which left the country this morning to Accra, Ghana for a return leg of the second last round of the 2022 FIFA World Cup Africa qualifiers.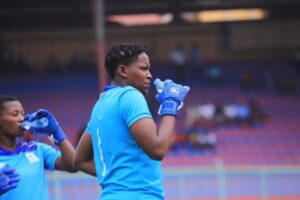 Photo by FUFA media
The development comes after months of her status and position stagnancy at Uganda Martyrs High School, Lubaga, the former succumbing to pressure and finally issued a release letter to Nyayenga letting her to join the Nakawa based side as a free agent.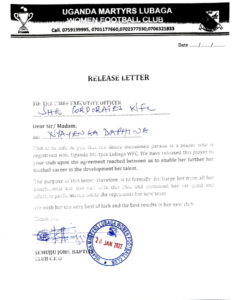 Nyayenga fell out with the Catholic founded institution club Uganda Martyrs last year and deliberately defied to reunite with her former maters despite all improved offers tabled to her in the recent past.
Her defiance was cemented by a short term move to Bunyoro based side Lady Doves women football club where she featured in the club's squad for the CECAFA zonal qualifiers of the inaugural CAF Women champions league in Tanzania.
However, Lady Doves failed to honor the terms in the six months contract which forced her trickery return to Uganda Martyrs.
The trickery return spurred scenes of untold drama which forced the institution to release her at all costs.
The short stopper is remembered for her heroic magic in the 2019 Uganda Secondary Schools Sports Associations (USSSA) Fresh Diary national championship in Mbale, leading Uganda to a quarter-final finish after a 1-0 defeat to eventual finalists St. Noa Girls Secondary School-Zana.
Nyayenga is among a crop of top notch female goalkeepers who have graduated through the ranks in USSSA Fresh Diary games.
Among others are Uganda Crested Cranes skipper Ruth Aturo (Kawempe Muslim), Hadijja Nalongo (St. Noa Girls Secondary School-Zana) who is currently a second choice goalie at UCU under the shadow of Ruth Aturo, Vanessa Karungi (Mukono High) Joan Namusisi (St. Noa Girls and Mukono High) and Juliet Adeke (Kawempe Muslim).
Starting her sporting career with Kitebi Primary School in Kampala, Nyayenga joined Rines SS in Senior One where she only spent a term before joining Uganda Martyrs.