Kabaka: Fans return to Masaza Cup football, Kabaka to grace this year's final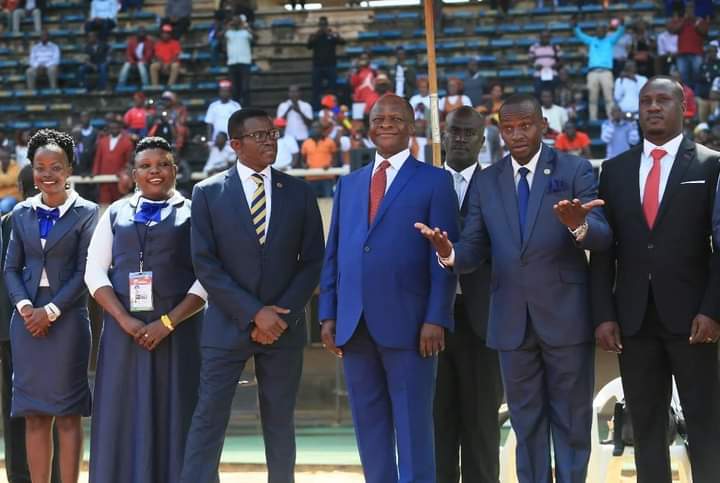 The Masaza Cup organizing committee has revealed the arrangements for the 17th edition of the Airtel Masaza Cup tournament.
The 2021 Cup final which will be between Buddu and Buwekula will be held at the St. Mary's Stadium in Kitende on March 5th 2022.
While addressing the media, minister for Youth, Sports, leisure and recreation Henry Ssekabembe Kiberu  stated that as always been the norm, His Majesty the King of Buganda Kingdom, Kabaka Ronald Muwenda Mutebi II will grace this year's final.
"His Majesty the Kabaka Ronald Muwenda Mutebi II is pleased to officiate at the closing of this season's Masaza Cup final at St Mary's Stadium, Kitende. This will be on Saturday, 5th March 2022 with entry fees fixed at 20,000/= for ordinary fans and 50,000/= for VIPS," he said.
The fans return comes after two years of banned gathering across the entire economy following a national lockdown in February March 2020 due to COVID-19.
Buddu will be targeting their second title on their fifth attempt after edging two time champions Bulemeezi 3-1 on penalties in the semifinal.
Buddu's only Masaza Cup triumph came in 2016 when they edged Gomba in the final.
Meanwhile, Buwekula advanced to the final after eliminating three time competition winners Mawokota 5-3 on penalties after a one-all stalemate in normal time.
This is Buwekula's first time to reach Masaza Cup finals since 2012 when they lost 1-0 to Bulemeezi.
Mawokota and Bulemeezi will contest for the third place playoff earlier on the day.
The wining team will take home gold medals and cash prize of Shs 12,000,000.
The runners up will take silver and the third place team shall smile back with bronze medals.
Past Winners:
2020: Gomba
2019: Bulemeezi
2018: Singo
2017: Gomba
2016: Buddu
2015: Singo
2014: Gomba
2013: Mawokota
2012: Bulemeezi
2011: Buluri
2010: Not Held
2009: Gomba
2008: Kyadondo
2007: Mawokota
2006: Kooki
2005: Mawokota
2004: Gomba