ANOCA Elections: Ethiopia's Ashebir Weldegiorgis beat Eng. Sharif Elerian to replace William Blick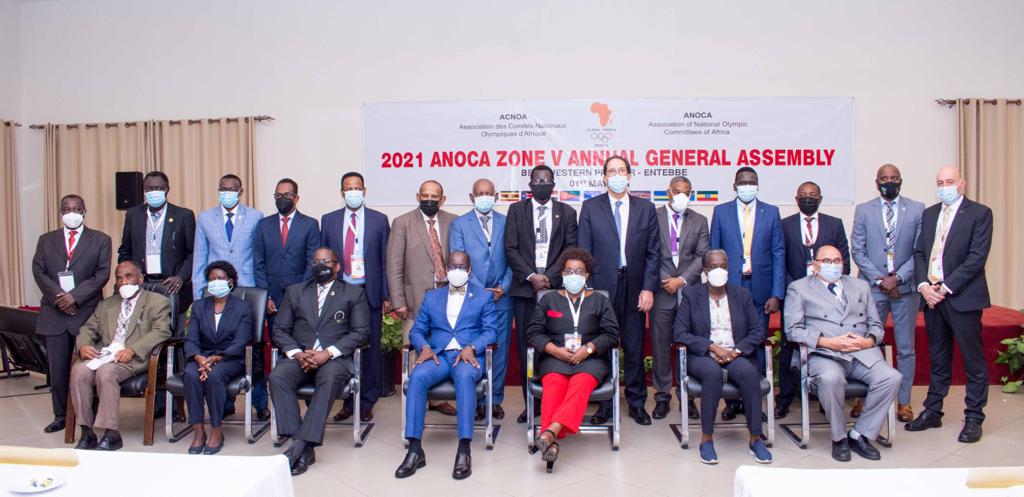 Association of National Olympic Committees for Africa (ANOCA) Zone Five (V) elective Assembly ushered in new leadership this Saturday 1st, May 2021 at Best Western Premier Hotel in Entebbe.
Ethiopia's Dr. Ashebir Weldegiorgis beat Eng. Sharif Elerian in the battle for presidency with 7,votes against 3 to replace William Fredrick Blick as ANOCA zone V president.
Remarks of new ANOCA Zone V President Dr. Ashebir Weldegiorgis emphasized unity as a noble factor that will drive their term in the four year journey.
"We need to work together as a zone for prosperity. We promise for a transparent governance. We shall work hand-in-hand with outgoing leadership to brainstorm ideas." President Ashebir Weldegiorgi
Ten out of the 11 Zone V member countries, that is, Uganda, Rwanda, Tanzania, Burundi, Kenya, Ethiopia, Somalia, Sudan, Eritrea and South Sudan, were represented at this assembly. South Sudan delegate who was also elected as treasurer didn't not attend.
Dr. Deran Tong Chor Malek (South Sudan) beat incumbent, Gulam Rashid of Tanzania by 7-3 votes to become the next treasurer.
On the other hand, four candidates, that is, Alexis Sharangabo (Rwanda), Luul Fisshehaye (Eritrea), Mohamed Abdou (Somalia) and Salvator Bigirimana (Burundi), contested for the three committee member positions and the assembly voted for Salvator Bigirimana ( 9 Votes), Alexis Sharangabo (8) and Luul Fisshehaye (7) Votes who beat Mohmmed Abdou (3) after a rerun following a tie in the first general lap.
Kenya's Francis Mutuku (Secretary General) and Hussam Hashim Khojaly (Vice President) went through unopposed.
Association of National Olympic Committees for Africa president Mustapha Beraff commended the level of democracy and leadership exhibited by zone V in the democratic transition of power and called for togetherness in the promotion of the sport.
"I congratulate all the winners and the organizers for such a democratic process. We need to continue working together to achieve the values of Olympic Movement. I appreciate all those who have been serving in these positions for the development of ANOCA Zone 5. I also thank IOC members particularly Lydia Nsekera" ANOCA president Mustapha Beraff, with the closing remarks.
Former president William Fredrick Blick decided not to stand again after serving his four year term.
Full elected executive
• Dr. Ashebir Weldegiorgis (president)
• Hussam Hashim Khojaly (Vice President)
• Dr. Deran Tong Chor Malek (Treasurer)
• Francis Mutuku (Secretary General)
• Salvator Bigirimana (Board Member)
• Alexis Sharangabo (Board Member)
• Luul Fisshehaye (Board Member)
About Author