AFCON U20: Uganda Hippos beat eastern giants Bul FC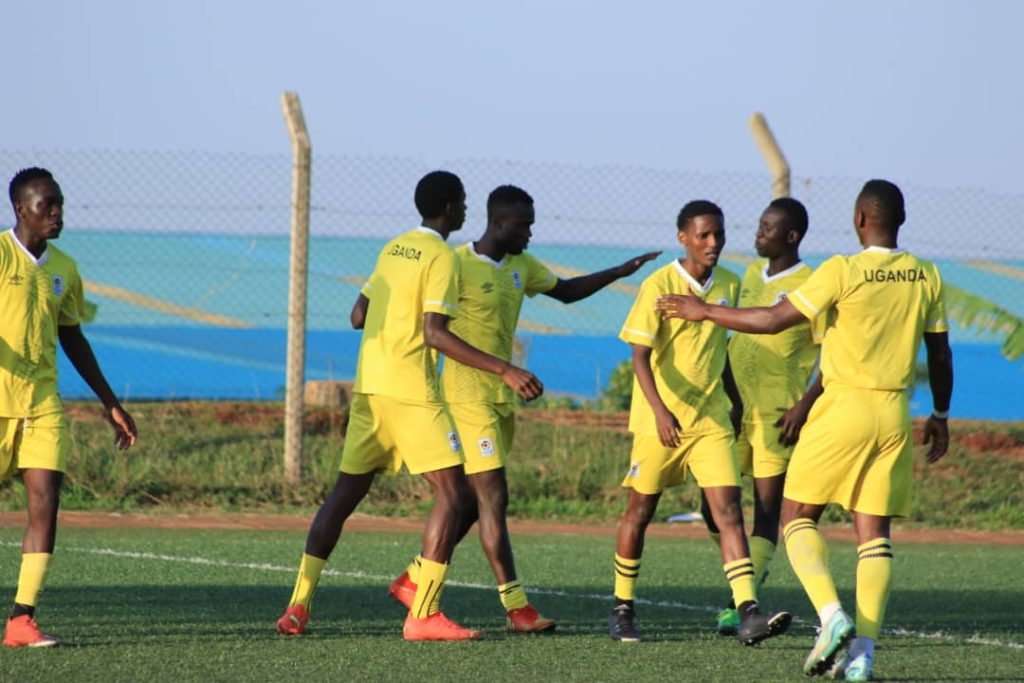 The Uganda Hippos played another friendly game with Eastern Giants BUL FC at FUFA Technical Center Njeru which they won 1-0.
Emmanuel Mukisa was on target for Jackson Mayanja coached side in the second half.
They had played another build up match with FUFA Big League side Jinja North United FC at the same venue which they also won 1-0 courtesy of Ibrahim Kasinde's goal.
The team is preparing for the 2023 AFCON U-20 tournament to be played in Egpyt in March starting 19th February and climax on March 11th.
They are in group B alongside Central African Republic, Congo Brazzaville and South Sudan.
Summoned squad
Goalkeepers
Abdu Magada (Gaddafi FC)
Kamya Shamulan (Soltilo Bright Stars FC)
Ssenyondwa Denis Kaala (Bushenyi Veterans FC)
Nsumba Venacious (Wakiso Giants FC)
Oyo Delton (SC Villa)
Defenders
Lukwago Haruna (KCCA FC)
Opiru Justine (URA FC)
Mpanga Sula (Maroons FC)
Ibrahim Juma (FC Leganes, Spain)
Ssemayange Simon Kato (Soltilo Bright Stars FC)
Jimmy Ndalambi (Blacks Power FC)
Samson Kasozi (UPDF FC)
Ronald Madoi (Wakiso Giants FC)
Kakogwe Apollo (Wakiso Giants FC)
Rogers Torach (Vipers SC)
Simon Mukisa (UPDF FC)
Enyou Allan (Elite Falcons FC, Dubai)
Kibande Cyrus (Teranova Soccer Academy)
Kitariko Kiano (Kedleston Road, Derby campus, UK)
Midfielders
Saidi Mayanja (KCCA FC)
Ivan Irinimbabazi (Soltilo Bright Stars FC)
Frank Katongole (St. Mary's, Kitende)
Allan Kiggundu (Bul FC)
Kyazze Faizo (Manyangwa FC)
Mugulusi Isma (Makedonikos FC, Greece), Jemba AbduShakur Ramsey ( International House Football Academy, Manchester)
Titus Ssematimba (Wakiso Giants FC)
Travis Mutyaba (SC Villa)
Faisal Wabyoona (KCCA FC)
Andrew Kawooya (KCCA FC)
Mutebi Hakim (St. Mary's Kitende)
Nyanzi Marvin (Wakiso Giants FC)
Mukisa Owen (Bul FC)
Christian Mulindwa (Rangers FC)
Forwards
Kasinde Ibrahim (Soltilo Bright Stars FC)
Rogers Mugisha (UPDF FC)
Kakande Patrick Jonah ( SC Villa)
Hassan Mubiru (Express FC)
Ivan Asaba (Vipers SC)
Umar Lutalo (SC Villa)
Issa Bugembe (Soltilo Bright Stars FC)
Kyeyune Abas (UPDF FC)
Oscar Mawa (Italy)
Emmanuel Mukisa (Kataka FC)
Magogo Shafiq (UPDF FC)
Dembe John Paul (KCCA FC U20)
Kato Shaun Senkubuge (Tottenham Hotspur FC)
Alpha Ssali (Unattached)
Ssevume Simeo (Rubaga High School), Kakaire Thomas (Unattached)
About Author