FAU to establish maiden national team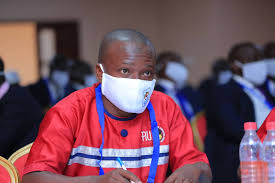 After alot of strategic hardwork, the Futsal Association of Uganda (FAU) is set to see fruits with the establishment of a maiden national team.
FAU chairman Hamza Jjunju believes that the inception of the super league that has produced Sauna FC (2016), Dream FC (2017/18), Yeak FC (2018/19) as respective champions, has given a lot of exeptional players who can compose the first ever historical national team.
"As FAU, using the Futsal league coaches, we come up with a list of exeptional players every after a season and these can make a superb national team.
Starting this April, we plan to have international engagements with CECAFA region countries.
If it all goes well, we expect Somalia to send a team here between June and August, and we shall make sure that every after four months, we play an international game," Jjunju revealed.
The establishment of futsal in Uganda was headlined by Hamzah Jjunju in 2015 who together with Patrick Lugemwa, Richard Nandigobe Semanda, and Pius Serugo founded FAU.
Their major aim was opening up and diversifying the football sector as well as enhancing the skills of footballers.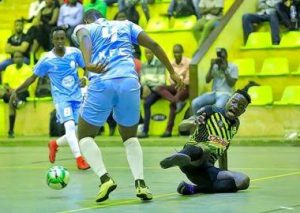 Jjunju adopted the futsal idea from Talib Hilal (FIFA Futsal Instructor) from Oman in December 2014 during a fruitful interaction.
"Strategically our first task as FAU was to engage FUFA. We have had a number of lengthy meetings discussing the sport's diversification abilities and how to expose this acquired talent to international communities.
Our next destination and focus in as far as talent exposure is concerned is the forthcoming AFCON and the 2024 World Cup. These are national teams' where FUFA also gets a mileage," added Jjunju.
After the actualization, the game has been played in a number of competitions like Futsal Corporate gala 2015 and 2016, Futsal University gala 2015, Futsal Mini League 2016, Futsal Super league 2017 to date, Futsal Uganda Cup 2017-date and the Futsal Super Cup 2017 to date.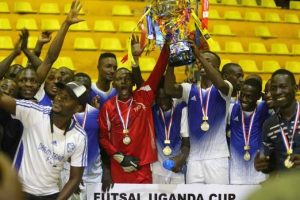 Jjunju believes that all these platforms produce good players who need international engagements at region, continent and world levels.
"We are in advanced talks with all CECAFA region countries to have a CECAFA Futsal championship in 2022.
We believe that can be a good preparation platform to push our AFCON and World Cup dreams come true.
We are also internally set to engage best Africa Futsal playing nations for exchange of ideas such that by 2024 we have a competent national team," said Jjunju.
He is also optimistic that if the national football team fails to qualify for the 2022 Qatar World Cup, Futsal shall become the first Ugandan football brand to feature at the World Cup.
"Our immediate four-year strategy is to play at the AFCON with our national team and a team of referees officiating at the same stage.
However, If the 11 aside national team (Cranes) fails to qualify for the next World, Futsal shall become the first football brand to play at the World Cup as we target the forthcoming event in 2024," observed Jjunju.
About Author