WCQ: Ghana's pitch for clash against Nigeria in sorry state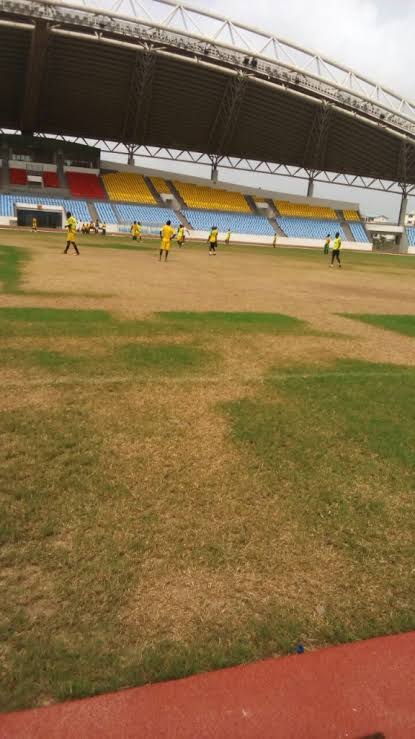 The venue for Ghana's crucial 2022 World Cup playoff against arch-rivals Nigeria later this month is in a terrible state looking like a cassava farm, just two weeks before the match is played.
The Cape Coast Stadium, that is supposed to host the Black Stars versus Super Eagles blockbuster, has been left in a terribly bad shape after the pitch was pounded with Independence Day activities on Sunday.
The newly built stadium in central Ghana has been left in terrible condition following the Independence Day parade on Sunday.
Military and police horses hit the ground for several hours during the parade to celebrate Ghana's 65th Independence which has left the pitch looking like a cassava farm.
The grass, that was approved by the Confederation of African Football (CAF), has suffered severe damage and the surface look brown, making it unplayable.
The pitch would not look unrecognizable for CAF officials who gave the greenlight to the Cape Coast Stadium to host the match that would attract global attention.
That is because global television stations will be beaming the match live on their screens and the poor state of the pitch would project Ghanaian and African football in a very bad light.
Top stars from both sides and their foreign clubs would also be worried that their players could be prone to serious injuries if they play on a pitch of such nature.
The players from the top clubs would also not be able to play their best football on a pitch of such nature which has been the bane of African football and how administrators take the issue of pitches for matches seriously.
This has sparked fears that the game could be relocated to another venue to avoid any embarrassment for African football.
However, the National Sports Authority will be racing against time to get it in shape before the first leg of the game against Nigeria.
The Black Stars host Nigeria on Friday Match 24 in Cape Coast.
Earlier, Ghana proposed the game be played in either Accra or Kumasi but the decision was rejected by FIFA and the Confederation of African Football.
Ghana played all home games in the group stages of the qualification in Cape Coast.
After the first-leg, the Black Stars will travel to Abuja in four days time for the second-leg and the winner of the playoff will progress to the World Cup in Qatar.