USSSA Fresh Diary Games: Wakiso Hill, St. Noa Girls-Zana, Taggy at a perfect run in Wakiso qualifiers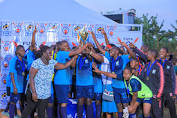 National and FEASSSA reigning champions St. Noa Girls Secondary School-Zana are in an unstoppable form with a day two master class performance to maintain their 100% winning running at the ongoing USSSA Fresh Diary Games girls football qualifiers for Wakiso.
After their day one riot over helpless Rochdale landslide 15-0 win, the Zana based side registered more two emphatic victories against Alliance and God Cares in day two.
Esther Babirye scored five (5) and usual tormenter Sylvia Kabene four (4) time as St. Noa beat Alliance 9-0 in their first game of the day.
In their second outing, Sylvia Kabene grabbed a brace, and a goal from Esther Babirye, and Titie Nakyeyune guided St. Noa Girls Secondary School-Zana to a 4-1 win against God Cares.
St. Noa tops group C with maximum nine (9) point from three games with 25 goal difference, becoming the second most scoring side at the championship.
Wakiso district reigning champions and semi finalists Wakiso Hill are the other two sides enjoy a perfect run at the qualifying tournament.
Last year's winners Taggy High School-Entebbe top group with maximum 12 points from four (4) games.
In the process, Taggy has scored a record 29 goals and conceded non to become the most scoring side.
Wakiso Hill tops group B with nine (9) points in three (3) games. They have scored 8 and yet to concede.
Selected Day two results
GROUP C
Rochdale 0 – 7 God cares
Alliance 0- 9 St.Noa
St. Noa 4 – 1 God cares
Alliance 3 – 0 Rochdale
GROUP D
Wampewo Ntake 0- 6 Fairway
Hope SS 0 – 1Rines
Rines 1 – 1 fairway
Hope SS Wampewo Ntake