URA FC Vs Al Masry: We must kill off the game at home if we are to advance to the next round – Cromwel Rothomio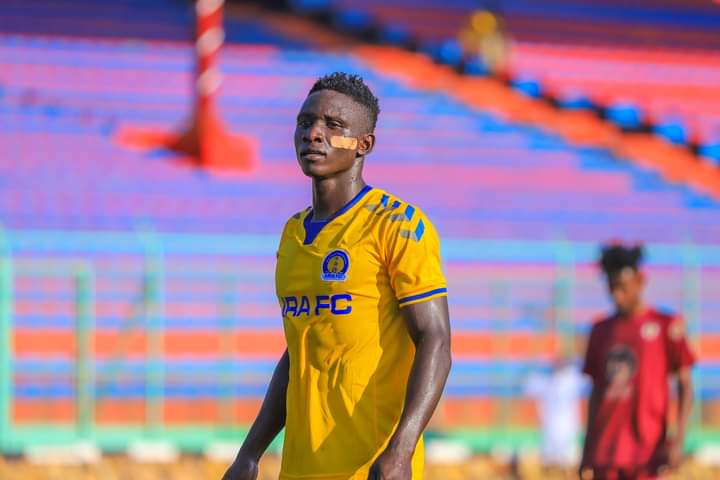 Cromwel Rothomio (Photo by URA FC media
It is now two days to the highly anticipated CAF Confederation Cup 2nd preliminary round first leg tie between URA FC and Al Masry from Egypt.
The game is scheduled for this Saturday 16th October 2021 at St. Mary's Stadium, Kitende.
URA's Cromwel Rothomio hints that they must press Al Masry and kill off the game in the first leg as the only way to brighten progressive chances to the next round.
"We have never played Al Masry before but we have to high press them from the word go. We have to kill off the game from here before we travel for the second leg in Egypt." Cromwel Rothomio.
The Tax Collectors progressed to this round with a 5-2 win on aggregate defeating Ethiopia's Coffee FC over two legs.
URA FC won the first leg 2-1 at St. Mary's Stadium in Kitende. Both goals were scored by the clinical forward Steven Dese Mukwala before a four-goal thriller match away from home in Ethiopia.
Cromwel Rwothomio, Ashraf Mandela and Shafik Kagimu all scored for URA as the Tax Collectors defeated Ethiopian Coffee 3-1 at the Bahir Dar International Stadium in the return leg.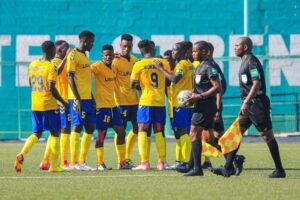 URA players celebrating Mukwala's brace at St. Mary's Stadium. (Photo by URA media)
South Sudanese referees Ring Nyier Akech Malong (center), Gasim Madir Dehiya and Robert Henry on the flanks, and Alier Michael James as the fourth official were appointed by CAF to handle the first leg tie between URA and Al Masry at Kitende.
In the same development, Rwandese Alexis Redamptus Nshimiyimana will work as the match commissioner, Abdi Soud from Tanzania as the Referees Assessor while Ugandan Bugingo Apollo Ahimbisibwe has is the Covid-19 officer.
About Author