She Cranes final squad to Cape Town named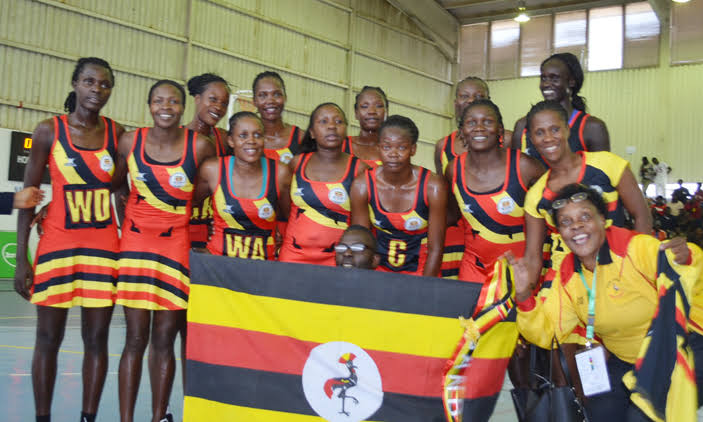 The Uganda National Netball team, "She Cranes" head coach Rashid Mubiru has today 15th March 2021 name a final squad of 12 players to travel to Cape Town, South Africa.
The development follows COVID-19 testing exercise which was done on Saturday 13th March 2021 at National referral hospital, Mulaga.
Stella Oyella (NIC) is also named captain of the team in the absence of long time serving skipper Peace Proscovia who wasn't summoned.
Oyella will be deputized by Irene Eyaru (KCCA) during this engagement.
The She Cranes side who will feature in a three series tie with South Africa in Cape Town have been in a none residential training which began early this month in Lugogo.
The test series are to help Uganda stay in the International Netball Federation (INF) top 12 rankings to keep U21 and Common Wealth games slots whose qualification to the final tournaments was decided to based on rankings.
The She Cranes need to win a series or reduce losing goal margins against South Africa's Spar Proteas over take Malawi who is currently second ranked and 6th in the world and Africa respectively.
Uganda's She Cranes shall travel on Friday morning, the 19th March 2021 to Cape Town for test series scheduled for 24th to 31st April.
Full final squad
Shooters
Irene Eyaru(KCCA)- Asst Captain
Stella Oyella(NIC)- Captain
Anisha Mohammed(UCU)
Shadia Nasanga(KCCA)
Mid-Court players
Sarah Nakiyonga(KU)
Mamie Suzan(Police)
Florence Adunia(NIC)
Defenders
Nasimu Mutesi(NIC)
Shaffie Nalwanjja(KCCA)
Joan Nampugu(NIC)
Prevas Kayenyi(NIC)
Mumena Fauzia(Prison)
Officials
Mrs Anek Susan (President)
Mrs Jocelyn Ucanda (Manager)
Mrs Annet Kisomose (Gen-secretary)
Rashid Mubiru (Head Coach)
Lina Okee (Assistant coach)
Ali Mugisha (Umpire)
Pricilar Adong (Physcio)
About Author