Shadir Musa Bwogi reveals life, mood and preparation hurdle after the postponement of summer Olympic games.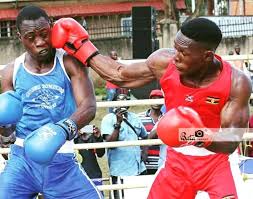 The national boxing team's road to Tokyo began on Thursday, the 20th and ran to 29th February 2020 on the outskirts of Dakar, Senegal when the Africa Olympic qualifying tournament got underway.
At this very tournament, Uganda national boxing team "The Bombers" took 13 boxers 8 of whom were men and five women.
Among the 13, only team captain Shadir Musa Bwogi, a welterweight boxer (69 Kg) directly qualified for the Olympic games through the Dakar, Senegal event.
By an unanimous decision, he won against Ghana's Jessie Lartey in the third place play off to book an Olympic games ticket.
He was join by middleweight (69-75kg) fighter David Kavuma Ssemujju and Catherine Nanziri a female fly weight (48-51kg) boxer who were declared recently basing on their continental rankings.
However, the summer Olympic games which were to kick off on Friday, 24th July to Sunday, 9th August 2020 in Tokyo, Japan were postponed to 23rd July to 8th August due to the outbreak of the deadly Corona Virus globally.
During an exclusive interview with Nim Sport Uganda on Friday 19th March 2021, Shadir Musa Bwogi revealed life, mood and preparation huddles after the postponement of the summer Olympic games.
"My expectations and psychological mood before the postponement was far different. I thought going to the Olympic games with a fresh form and body from the Dakar, Senegal qualifiers which wasn't the case. Every boxer who qualified world over has gone through the same situation.
However, my camp under manager David Kalemeera of Theron Mckim have given me the best support to keep me in shape.
It's been a hard COVID-19 lockdown period but their financial support has been great.
UBF president Moses Muhangi is a real deal at the federation. With the technical and financial support given to me I must perform to their expectations.
Not forgetting NCS and UOC for their hand." Shadir Musa Bwogi.
Bwogi also acknowledged that he has consistently went on well with the training following the technical team programs and guide.
"Me and my camp with the guide of national team coaches never ceased and therefore preparations are still going on smoothly. I'm eagerly waiting to feature in the pinnacle tournament of my amateur career. Added Bwogi.
A total of 33 slots (22 for men, 11 for women) at the Olympic Games this summer we're allocated for African countries to compete for 13 sets of medals in Japan.
206 countries (including Uganda) will take part in these games that will be hosted in the Japanese city of Tokyo.
About Author