Rugby: Betway KOBs unveile nine new players ahead of league kick-off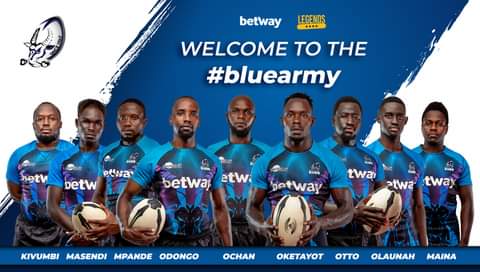 Betway KOBs Unveile nine new players ahead of league kick-off
The Betway Kampala Old Boys (KOBs) Rugby Club have today 3rd March 2021 at Lugogo unveiled new players who have joined the club in readiness for the upcoming shortened Nile Special Stout Rugby Premier League.
The Lugogo based side who last won the league title in 2016 have strengthened their squad with nine new players in a bid to return to the summit of Ugandan Rugby.
At a press conference to announce the new players, the Club's Chairman, Mr. Samuel Rubanga welcomed the new players to the club and reserved special praise for two young KOBs Academy graduates, Trevor Maina and Humphrey Olaunah, who have moved up to join the Senior squad.
"I warmly welcome you to the KOBs family and feel at home. I congratulate Trevor Maina and Humphrey Olaunah who have moved from out junior side to join the senior squad." Said KOBs chairman Samuel Rubanga.
The new players include a mix of experienced National 7s and 15s players and seasoned league campaigners who will bolster the squad.
These include Byron Oketayot (Loose Forward), James Odongo, (Wing/Fullback), Arthur Mpande (Lock), Michael Otto (Lock), Brian Ochan (Scrum Half), Robert Masendi (Fly Half/ Scrum Half), Saul Kivumbi (Prop), Trevor Maina (Hooker), Humphrey Olaunah (Lock/Loose Forward)
Rubanga also commended the club partner, Betway Uganda for continuing to back the club even through the pandemic lockdown in 2020 and hailed them for being a great supporters of local Ugandan sport.
Davis Kyewalabye, the Head Coach expressed excitement for the return of rugby after the COVID-19 pandemic caused cancellation of the 2019/2020 League campaign. He also said the club has been training for the past 6 weeks and despite the long rugby layoff will be relishing the chance to get back to playing. He urged players to continue with their set strength and conditioning regimes but to also adhere by the Return to play protocols put in place by the Uganda Rugby Union to help prevent the spread of COVID-19.
"We are excited to play again. Its been long since the cancellation of the 2019/20 season. We have been training for the last six weeks in preparation for this coming season. I urge my players to continue with their set strength and conditioning regimes as they adhere to the set COVID-19 preventive measures." KOBs head coach David Kiwalabye.
Betway KOBs get their league campaign underway against Rhinos RFC on 6th March 2021 at 4.00pm at Lugogo.
About Author