Netball: She Cranes beat Namibia to register first win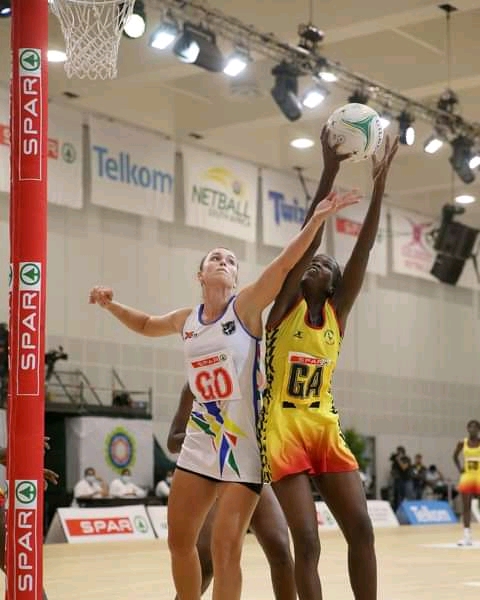 After a demoralizing 49-33 loss to host and African's top seed South Africa, Uganda's She-Cranes bounced back to thump the Namibian Debmarine Desert Jewels by 49 goals to 28 in day two of the ongoing SPAR Challenge Tri-Nations netball tournament held at Cape Town International Convention Centre on Friday, 26th March 2021.
Uganda She Cranes who led 22-17 at halftime before sealing the game with a 49-28 final score were greatly inspired by the days star Joan Nampugu who staged the player of the match show on the evening.
The She Cranes firmly controlled the game right from the start to secure a 12-6 first quarter lead despite Namibians putting up a spirited fight in the second quarter to close the margin to a difference of four goal with 22-17 score.
The Namibian Jewels staged resilient second quarter, reducing the goal margin to four goals and outscoring the She-Cranes by 11 goals to 10.
In the third quarter, Uganda set the pace and bar higher to secure a 37-21 score before they sealed it in style in final stanza winning the day by 49-28. In the process, Uganda scored 12 goals in the closing quarter compared to Namibia's 7.
The Uganda She-Cranes swings back to action on Saturday, 27th to take on the SPAR Baby Proteas at 4pm and the SPAR Proteas will lock horns with Namibia at 6pm.
SCORE BREAKDOWN
Q1: Uganda 12 – 6 Namibia
HT: Uganda 22 – 17 Namibia
Q3: Uganda 37 – 21 Namibia
FT: Uganda 49 – 28 Namibia
About Author