NCS, UUSFA Agree to Work Together Towards Sports Development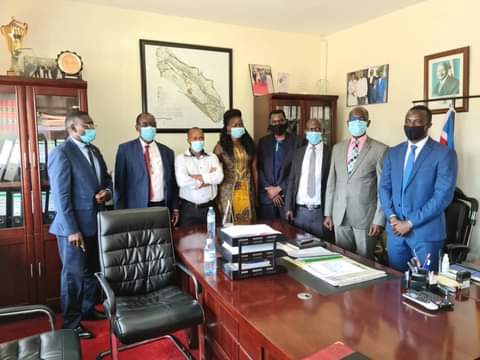 National Council of Sports (NCS) and Union of Uganda Sports Federations and Associations (UUSFA) met on Friday 12th February 2021 at Copper Chimney Restaurant in Lugogo as the two bodies look for ways of working together in harmony for sports development.
Moses Muhangi the interim chairman of UUSFA and also the Uganda Boxing Federation president was pleased with the step taken so far.
"The meeting was basically about us to explain our mandate and objectives of the group and they agree with the ideas we raised.
We agreed to clearly state our mandates and objectives vis-à-vis the NCS mandate to avoid conflict and sapping for power and that we are able to move together.
We shall write to them formally by Monday. Our major mandate is advocacy and lobbying. The implementation is for government authorities", said Muhangi.
UUSFA was formed on 10th December 2020 with an aim to have a united voice as federations to advocate for Sports development in the country, UUSFA has positively moved along their objective meeting the deciding authorities as their first obligation to highlight them about their motive.
Before this meeting, UUSFA members met with the Speaker of Parliament, Rt. Hon. Rebecca Alitwala Kadaga Monday 8th February 2021 and the State Minister for Sports Hudson David Obua on 2nd to discuss sports development strategies and finding long lasting challenges of the sector.
What was resolved at the meeting between UUSFA and NCS?
UUSFA will clarify its mandate and objectives so that it can work together with NCS to promote Sports Development in a harmonized way in the country.
UUSFA will present a formal communication to NCS on Monday explaining its Mandate and Objectives and thereafter a follow up meeting will be held to discuss the specific issues requested of NCS in the UUSFA presentation.
Following the second meeting with a tangible way forward, a detailed update on how UUSFA and NCS will work together to promote sports development in the country in a harmonized and stream lined manner shall be released.
Overall UUSFA and NCS agreed to work towards the same direction which is to help with better Sports development in the country.
At the meeting, NCS was represented by Board chairman Donald Rukare, General Secretary Dr. Benard Patrick Ogwel, Assistant General Secretary in charge of technical David Katende, Ivan Mugoowa and Hajji Zubairi Galiwango.
About Author