National Pool Championship: Bwanika, Mutesi crowned King and Queen of table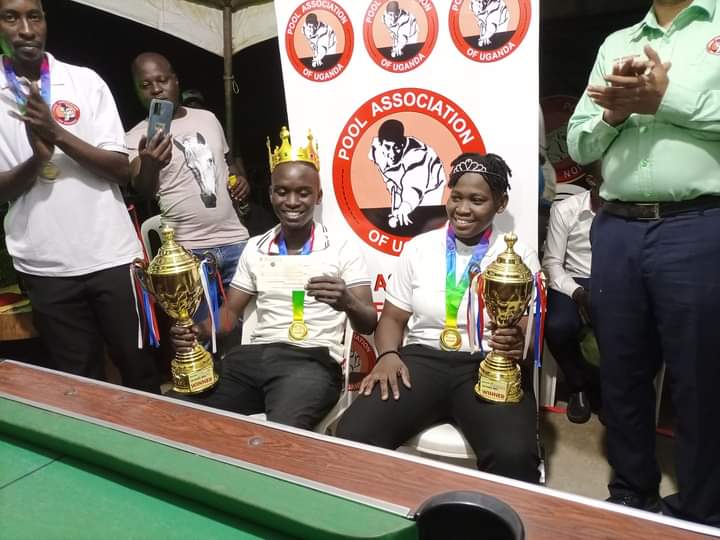 Mansoor Bwanika and Rasheeda Mutesi beat Jonah Turigye (8-2) and (7-6) respectively to be crowned 2021 King and Queen of table.
The National Pool Championship, the first of it's kind since 2018 was held at Green woods Club in Masaka over the weekend. The two day event started on Saturday 18th to Sunday 19th December 2021.
A total 104 men in the top ranks of 13 districts including Kampala, Jinja, Wakiso, Mukono, Gulu, Luwero, Kitgum, Mbarara, Rukungiri, Kyotera, Ibanda, Kasese and of course Masaka registered for the historical second National championship.
In the female category, 30 top ranking shooters also registered to contest the Pool Queen championship which had last been won by Vicky Namuyanja in 2018.
In his road to the final, Bwanika was drawn against Timothy Kasujja who became his first round victim, losing 5-1.
The second round saw him fight off a challenge from Kenneth Kabushenga as the undisputed Mansoor Bwanika won 5-3 before he saw off Caleb Muhirwe in a 5-2 3rd round victory to avenge the defeat in the Kajjansi open.
In the Quarter finals, Mbarara-based shooter Amos Keith carried less weight as the champion roared with a 5-1 victory. It was an interesting as his rival lbrahim Sejjemba was on the neighboring table losing 6-4 to Fort Portal's finest player Ivan Murungi.
Ivan Murungi had a good run, having earlier eliminated Lubulwa Simon and Ibra to reach the semis for the second consecutive time in an event outside Fortportal. Other renown stars like Gumikiriza Alfred, Ssebuguzi Habib, Settumba Geoffrey couldn't survive the prowess of Akampulira Richard and Turigye Jonah who were by far the semi final the best players in the tournament.
However, Ivan Murungi was eliminated by veteran Jonah Turigye 6-3 as Mansoor Bwanika overcame the tournament's surprise package Fred Muweesi by 6-2 in the other semi-final.
The dream final between Mansoor Bwanika and Jonah Turigye was a long way awaited clash with the pair having even records against one another in recent events. Turigye led 1-0 but wasn't given room to celebrate as Mansoor's attacking prowess became too superior to take the match by 8-2.
This became Mansoor's 5th championship out of the last 6 major Calendar events. This earns him a seat amongst the greatest players PAU has ever produced, just like Rasheeda in the ladies' category.
The young lady has been winning alongside Mansoor. To re-emphasize her status as one of the finest female shooters on the continent. In a very unique way, she reached the final without losing a single game, not even against her elder sister Rukia who went down 6-0.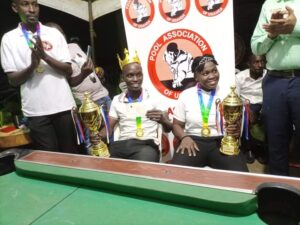 In the final, Rasheeda Mutesi beat Sheila Ankah who surprised everyone including herself, matching Rasheeda's attacking system with a rather calculative risk free defensive approach which took the final to a decider.
However, Rasheeda composed herself to win the all important game by 7-6 in a race to seven series final.
A cash prize of 2,000,000 was won by the champion in the men's category. The 2nd, 3rd and 4th carried home 1,000,000, 500,000 and 250,000 respectively.
In women's category, 1,000,000 went to the champion as 500,000, 250,000 and 125,000 went to the 2nd, 3rd and 4th respectively.
About Author