Masaza Cup: Busiro silence noisy Buddu to win maiden trophy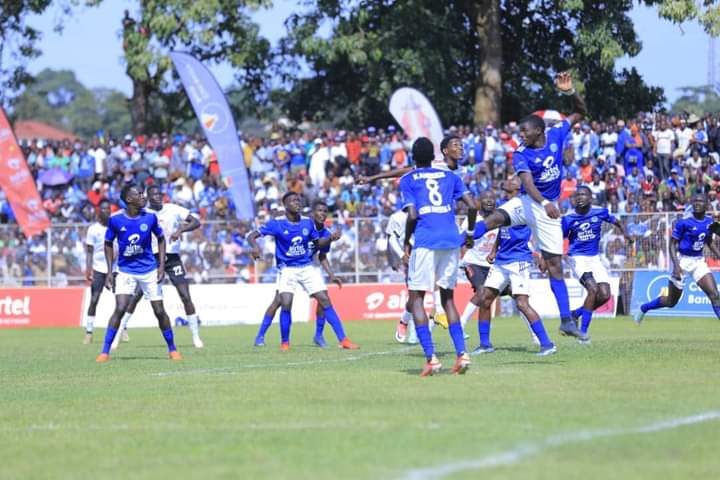 Finally under history maker Simon Peter Mugerwa Busiro beat two time champions Buddu to clinch their first ever Masaza Cup trophy.
The final played in the absence of his Majesty the Kabaka Ronald Muwenda Mutebi Kimera II was held this evening at Muteesa II Stadium in Wankulukuku.
Busiro beat Buddu 2-1 in the 2022  Masaza Cup final to become the either county to win Masaza Cup tournament in history.
Forward Masood Kafumbe and Isaac Ofoyrwoth scored the two Busiro goals as Denis Kalanzi scored Buddu's only goal.
scored a late minute goal to hand Busiro a 2-1 win against the defending champions Buddu.
Isaac Ofoyrwoth sent Busiro into a 1-0 lead in the 42nd minute of the game before Denis Kalanzi levelled the scores with just a minute to halftime.
Forward Masood Kafumbe's late minute goal  earned Busiro a 2-1 win against the defending champions Buddu.
Busiro joins seven former winners Gomba, Mawokota, Bulemezi, Buddu, Buluuli, Kyadondo, Kkooki to become the 8th side to ever won the Masaza Cup trophy.
Line ups
Busiro XI
Emojong Anthony Patrick (GK), Agaku Vicent, Ssemwogerere Rashid, Aritole Godfrey, Mandela Alex, Sserunjogi Joel, Ziraba Ronnie, Kambugu Lawrence, Muzanyi Shafik Hakiram, Ofoyrwoth Isaac, Kalema Jimmy.
Substitutes
Tukei James, Mutyaba Sulaiman, Kafumbe Masuudi, Kizito Simon, Kasenge Ibrahim, Nsubuga Paul, Kagwa Phillip.
Buddu XI
Kibuule Nazir (GK), Ssebulime Pius, Kirumira Reagan, Ayman Twaha Toure ©, Anorld Odongo, Kimwero Shamir, Atuherwe Fred, Nyanzi Marvin, Bukenya Vianny, Ssekibengo Godfrey, Kalanzi Denis.
Substitute
Bwabye Ashraf, Kaziro Jaffer, Kabanda Badru, Gaganga Geofrey, Sserunga Allan, Omirambe Brian, Lubega Sharif