Inside Mujib Kasule's FUFA presidency agenda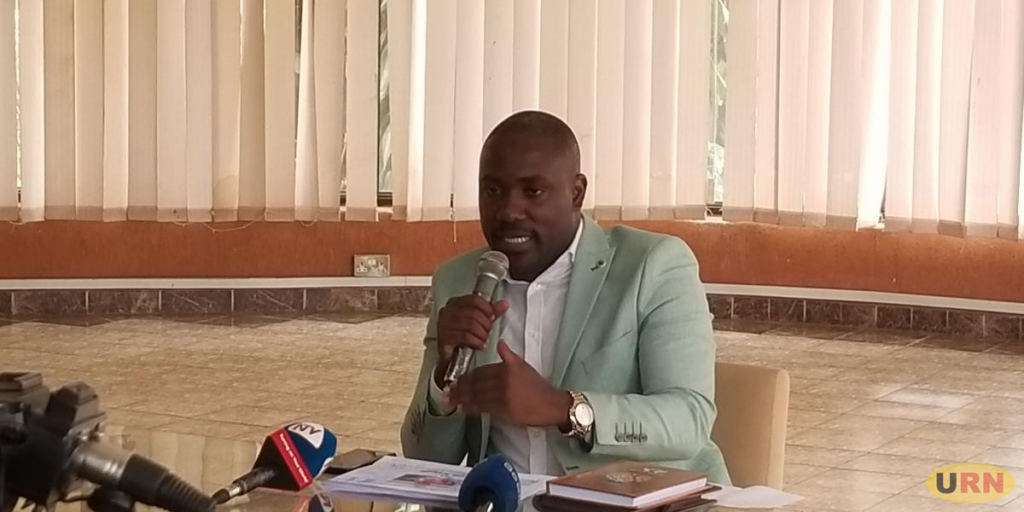 Former KCCA FC, Uganda Cranes and currently the chairman of Big league outfit Proline FC Mujib Kasule announced to stand for Presidency in the forthcoming Federation of Uganda Football (FUFA) elections.
The announcement came on a rainy Tuesday morning at McKinnon suites in Kampala. He joins in incumbent Moses Magogo and Makindye West legislator also doubling as Katwe United president Allan Ssewanyana.
During a press conference, Mujib stung the bad personalities with selfish interests in the current federation leaders who have exerted too much misery and frustration to true football investors which has left the entire sector crippled.
"Football should be an asset of the nation but not people at Mengo and players. it's a great mobilizing tool for unity and development."
"Football is currently in news for not good results bad for mostly the bad in it which is uncalled for."
"Many football investors in have been frustrated and forced out of the sector for coming out to opening discuss the injustices, embezzlement and misallocation of football funds."
"In the recent years we have been meant to believe that football starts and ends with Cranes since every deal rotates around the national teams," Said Mujib.
His utterance was derived from the recent in insane abuses to the Cranes players by FUFA president Magogo for their poor run of results. 
Mujib also expressed concerns about the primitive manner FUFA employed when handling former Uganda Cranes star Mike "Sulaiman" Mutyaba who staged a peaceful demonstration demanding for players money which was swindled by FUFA.
Inside Mujib Kasule's agenda. (A few key areas)
Our major focus shall mainly target improving our local league. Cranes is not the main part of the game and the most important like they have made everyone believe. Our league is completely struggling at the expense of the national team which takes almost 80% of the federation's budget.
Massive investment in the league must be realized. At least 2.5 billion should be put in the league. Each club to be funded by FUFA with a tune of 100 million at every beginning of the season.
400M should be prize money
The FIFA L loan scheme of at least 200M from the FIFA consolidated fund to our clubs on one condition to bring 10,000 fans in the stadium.
Players are developed in clubs but not in national teams set up. Player development is key and there a competent and consistent procedure.
There must also be total Independence of the league. This Independence should be financially and administration to rime with the priority of the team as fixture management is considered.
We plan to engage all stakeholders, more so the government to firstly look at rehabilitating and upgrading the existing facilities and we negotiate for construction of new ones through government and corporate companies.
At least a tune 500M shall be added to the 200M to get them to 700M in the Big league. These are great scouting grounds for UPL clubs and they must have an independent body to run it as it will evolve from it's current stagnation.
Uganda Cup prize money is to raise as the winner bags 150m from the current 66M and they will acquire a CECAFA Clubs slot. 
This intend to change the current order of representation as the league winner and runner up will feature in the CAF Champions league and CAF Confederations Cup respectively.
Empowering regions and fund them to run U11, 13, 15 and 17 and their senior leagues before they feature in the national championship. FUFA must equip the regional Associations and pay a permanent qualified coach who will guide the nurturing and development of players in regions.
We must invest in the education system to produce many and quality coaches. Selected Elite coaches shall be given international practice exposures annually in Europe. We shall invest, improve and trust our local coaches with our national teams. 
National teams technical team
The technical teams across all national teams must be revamped and given quality to take on duties. We need to create a philosophy and curriculum right from the grass root across the country. This will help us to nurture, develop and expose talent graduated through proper systems.
Our women have a higher chance to go to the world cup than the boys. We need to pay closer attention to nurture, develop and expose them. All the money that comes through to women football must be channeled to it and we shall invest 300M. We are to introduce contracts in their football. We must also bridge the gap between women and men football. We are to revamp the Women Football Association because its currently in captivity of football politics.
Ex-Players only need to stay relevant after retirement because that's where their lives are but they don't need handouts from FUFA. After spending all his life in football, we are going to create a system of identifying players two years before retirement and enroll them into their desired professional lines before retirement for an easy transition.
For those who retired already must be taken on into different roles in football.
About Author