FWEL Playoff: Tooro Queens Eliminates Asubo-Gafford To Occupy The Last Slot In Super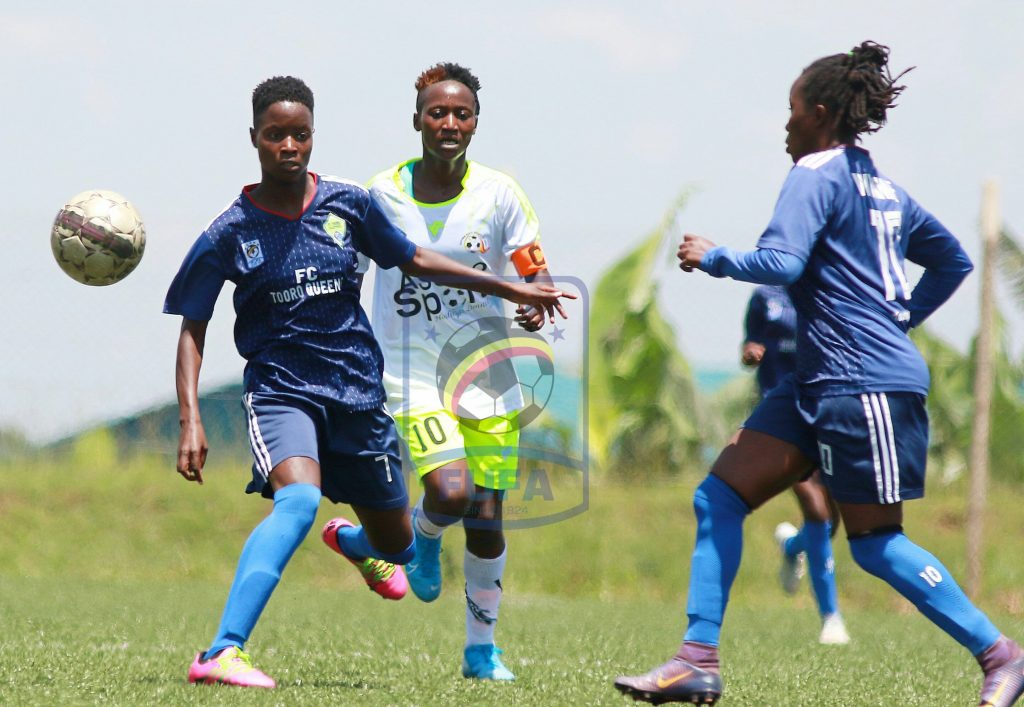 The Country Queens from Tooro via spot kicks eliminated Asubo-Gafford Ladies to occupy the remaining slot in the FUFA Women Super League, season 2020/21.

The newbies and Asubo-Gafford shared spoils in normal time of the game held at FUFA Technical Center, Njeru on Monday afternoon.
The Kyebando based side, Asubo-Gafford Ladies enjoyed the greatest portion of ball possession, with an open chance to get into lead in only six minutes when Nulu Nakyanzi freekick from 20 yards kissed the crossbar.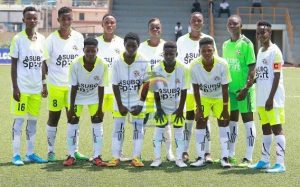 The last stanza went into balance and the last ten minutes of the game saw Tooro Queens getting at least two chances to take the day before spot kicks but, Resty Kobusobozi failed to convert into an empty net.
In spot kicks, Tooro Queens converted four of their first kicks as Asubo's Sheebah Zalwango and Nulu Nakyanzi failed to convert and let the Queens qualified via 4-2 win.
Tooro Queens start list against Asubo-Gafford (photo credit:FUFA media)
Racheal Tukamuhebwa and Nantongo Diana are the only ones who took theirs right for Asubo.
"We have achieved our target of qualifying, in today's game we started slow but in second half we changed a few things and girls tried really hard to get a goal though it did not come and then forced into penalties. the chances came in in the last minutes." Rogers Ayesiga said after qualifying to Super league in their first season of Elite football.
"My girls played well, and they did their part well, only my part missed out since I wasn't on touchline, also it affected us.
But that is football, we going back to build from where we stopped." Asubo-Gafford Ladies Tactician told this website via phone call interview.
Tooro Queens joined Makerere University WFC and Isra Soccer Academy who qualified directly to Super League for season 2020/21.
Team Line Ups:
Asubo-Gafford Ladies XI:
Zualika Ngamita (G.K – 1), Mariana Nakato (13), Patricia Namuli (4), Miriam Nakayiwa (3), Rachael Tukamuhebwa (20), Diana Nantongo (12), Joan Jovan Naggayi (14), Shakira Mutibwa (10), Sheeba Zalwango (8), Nulu Nakyanzi (16), Janet Apolot (7)
Subs: Else Najjemba (18), Divine Mirembe (6)
Officials: Steffan Kisakye Wabwire (Head coach), Samuel Lubega (Assistant coach), Noeline Nakabuye (Team doctor), Henry Barungi (Fitness coach)
FC Tooro Queens XI:
Cecillia Kamuli (30), Violet Kyererezi (6), Jolly Kobusinge (3), Ciccy Kabarwani (15), Jamillah Nabulime (17), Winnie Babirye (10), Joanita Awembabazi (18), Sumaya Komuntale (14),Resty Kobusobozi (9), Ruth Nyakato (7), Maggie Kayima (19)
Subs: Dianah Kirungi (1), Stellah Basemera (16), Jenniffer Katusabe (13), Jeninga Awadifo (21), Mary Kabaculezi (12), Slyvia Kempango (20)
Officials: Rogers Ayesiga (Head coach), Solomon Nyakairu (Coach), Douglas Kahuma (Manager).
About Author