FUFA confirms match referees for match-day five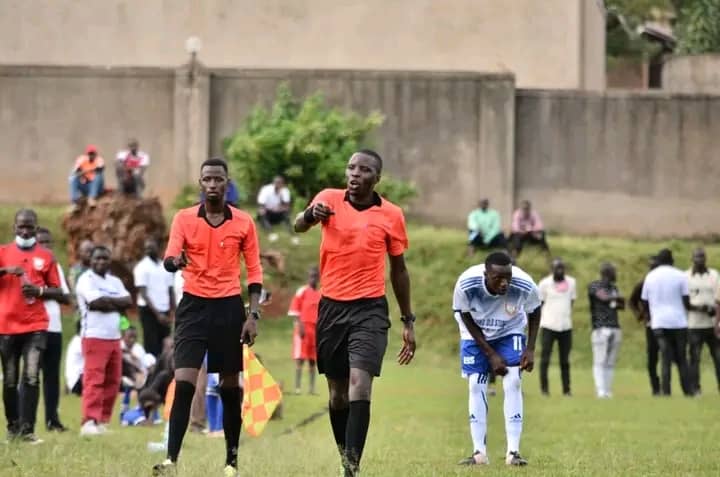 The Federation of Uganda Football Associations has confirmed the match officials to handle match day five of the Uganda Premier League.
Winless sides Mbarara City and Arua Hill SC will face off at Kakyeka Stadium in Mbarara on Wednesday 25th October
The center referee will be Vincent Kavuma who is to be assisted by Jane Mutonyi and Brianson Musisi.
Amon Ainebyona has been appointed as the fourth official and Amin Bbosa Nkono is the match Assessor.
Tuesday
24th-October
Gadaffi Vs Busoga United at Gadaffi Arena Jinja
Referee:Tumusiime Tuge
1st assistant: Samuel Mbabali
2nd assistant: Ashiraf Katerega
Fourth official: Henry Musisi
Assessor:Harriet Nattabi
SC Villa Vs BUL at Muteesa II Wankulukuku
Referee:Ali Sabila
1st assistant: Emmanuel Okudra
2nd assistant:Mustafa Mafumu
Fourth official:Ronald Madanda
Assessor: Mark Ssonko
Wednesday 25th October
Mbarara City Vs Ara Hill at Kakyeka Stadium Mbarara
Referee:Vincent Kavuma
1st assistant: Jane Mutonyi
2nd assistant: Brianson Musisi
Fourth official: Amon Ainebyona
Assessor: Amin Bbosa Nkono
Wakiso Giants Vs Kitara at Kabaka Kyabaggu Stadium Wakiso
Referee: Shamirah Nabadda
1st assistant: Ronald Katenya
2nd assistant: Elizabeth Nassolo
Fourth official:Richard Kimbowa
Assessor:Khamish Ayub
Thursday 26th October
KCCA FC Vs NEC at MTN Omondi Stadium Lugogo
Referee: Dick Okello
1st assistant: Isa Masembe
2nd assistant: Hakim Mulindwa
Fourth official: Lucky Kasalirwe
Assessor Brian Miiro Nsubuga
Friday 27th October
UPDF Vs Express at Bombo Military Barracks Grounds
Referee:Stephen Kimayo
1st assistant:Timothy Gumisiriza.
2nd assistant: Memory Gumisiriza
Fourth official: Daniel Outeke
Assessor: Denis Batte
Maroons Vs URA at Lugazi Prison grounds
Referee: Rahuman Atiku
1st assistant:Muzamiru Ijaga
2nd assistant: Charles Zziwa
Fourth official:Solomon Jumba
Soltilo Bright Stars Vs Vipers SCat Kavumba Recreation grounds
Referee:Ashaduh Ssemere
1st assistant: Juma Osire
2nd assistant: Tonny Agil
Fourth official: Rajab Bakasambe
Fourth official: Samuel Egesa
About Author