FIFA Confirms 23 Ugandan International Referees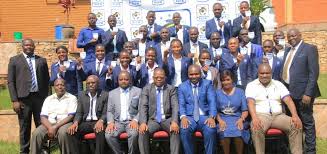 FIFA has released the list of 23 Ugandan international referees for 2021. The list is for both men and women.
It includes center referees and assistants cutting across all football categories of soccer, futsal and beach soccer.
The list was approved by FIFA referees Committee and sent to FUFA on 17th December 2020.
The list of 23 Uganda FIFA referees for 2021;
Male referees: Ssali Mashood, Muhabi Alex, Sabilla Ali Chelangat, Oloya William and Ronald Madanda
Assistant referees: Okello Dick, Katenya Ronald, Okello Lee, Masembe Isa, Mulindwa Hakim, Okudra Emmanuel
Futsal Referees: Nsubuga Brian Emmy, Sengendo Isaac
Beach Soccer: Kintu Ivan Bayige, Mugerwa Shafic, Ssenteza Muhammad and Kawagga Bazirio Kennedy
Women referees: Nabadda Shamirah and Murungi Diana
Shamirah Nabadda is among the 2021 FIFA selected female referees in Uganda
Women Assistant referees: Nantabo Lydia Wanyama, Nakitto Marex Nkumbi, Mutonyi Jane and Atuhaire Docus
About Author