FIFA 2022 U20 Women World Cup qualifiers: CAF names Ethiopian iron female referee to take charge of Uganda, Ghana tie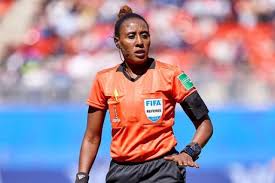 Confederation of African Football (CAF) have named the Ethiopian iron female center referee Lydia Tadesse Abebe to be in charge of the highly anticipated FIFA U20 Women's World Cup qualification tie between Uganda and Ghana.
Uganda's U20 Women national football team will face the West African power house, Ghana, on Saturday 22nd January 2022 at St Mary's Stadium, Kitende.
Lyadia Tadesse Adebe will make the day's set with fellow Ethiopians Wonshet Abera and Birtukan Mamo in the sides as the first and second assistant referees respectively.
On the same day, Tsehaynesh Abebe (Ethiopia) will be the fourth official, Margaret Omondi of Kenya the day's match commissioner whilst Sabelo Sibindi from Zimbabwe will be the referees assessor.
The aggregate winner between Uganda and Ghana will either face Ethiopia or Tanzania in the final qualification round.
Uganda eliminated Kenya and South Africa to reach this stage.
About Author