Fauzia Najjemba's brace against Tooro Queens revives Kampala Queens tittle hopes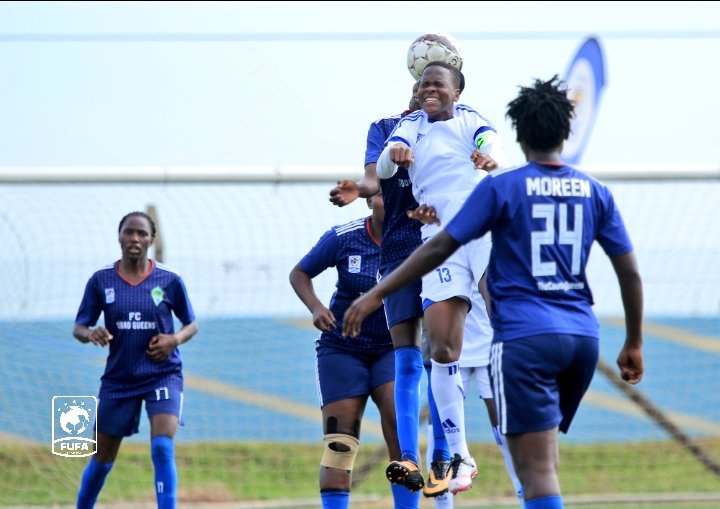 Fauzia Najjemba's brace against Tooro Queens inspires Kampala Queens to a most wanted second win of the season.
Mary Kabacurezi sent Tooro Queens in the lead in the 23rd with great energies exhibited from the start of the game.
Fauzia Najjemba 41st converted from questionable penalty awarded by the center referee Anna Akoi. Towards the end of the final stanza, Fauzia Najjemba sealed Kampala Queens' victory with a killer strike.
The epic FUFA Women Super League tie was held at the FUFA Technical Centre, Njeru on Friday 23rd April 2021.
Both teams featured for their third game in group A. Kampala Queens lost their opening game 4-1 to Kawempe Muslim Ladies FC before they won the second game 1-0 against Uganda Martyrs WFC, goal courtesy of Rukia Namubiru.
Their opponents Tooro Queens won the opening game beating Makerere University WFC 1-0 but lost 2-0 to giants Kawempe Muslim Ladies FC in their second fixture.
The win has revived Kampala Queens' tittle hopes, clinching six points to equal leader and runner up Kawempe Muslim Ladies FC and Uganda Martyrs WFC respectively.
Kampala Queens have managed six points out of the possible nine in three games scoring three goals and conceding 4.
Whilst Tooro Queens, have scored twice goal conceding four goals and have collected 3 points in three games.
Isma Mukibi coached Kampala Queens side forward three Fauzia Najjemba, Resty Nanziri and Lillian Mutuzo who are fast and clinical upfront have broken goals drought with Fauzia Najjemba's brace today.
Tooro Queens missed the services of midfielder Resty Kobusobozi who was sent off in their 2-0loss to Kawempe Muslim Ladies FC and will bounce back against Uganda Martyrs in their final group game.
The top two teams will automatically make it to the Semi-finals as the last team in the group will be relegated to FUFA Women Elite League.
About Author