FAU Seals Partnership With Sports Edge Limited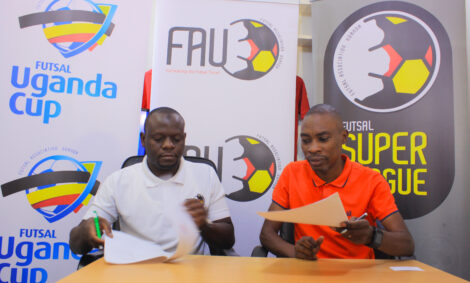 Futsal Association Uganda has today 27th December 2020 signed a memorandum of understanding with Sports Edge Limited aiming at merging forces to grow the game in the country.
The MOU is to move the two entities with great intent to build both brands simultaneously with the game of futsal in the country.
The deal was signed and announced at an internal media brief on Saturday 26th, 2020 by the FAU Chief Executive Officer Ibrahim Mugera who equivocally highlighted what this newly landed partnership brings on the table and what it means to game.
"Today is a great day for the game of futsal as we have signed a Memorandum of Understanding with Sports Edge Ltd which is a Sports events management company
With this MOU, they are going to provide sports events management services for the Corporate futsal tournament were they will provide the technical expertise, operational amenities, gate collections as well as doing marketing and promotion for the futsal tournament." disclosed Ibrahim Mugera.
At the brief contract signing ceremony, Sports Edge Ltd's Executive Director- Norbert Kazibwe expressed his delight upon sealing the partnership stating how it will deliver excellence to the game and stretching how it provides an opportunity for both the young entities to leverage their strengths and grow together as businesses.
"Sports Edge Limited look forward to giving all customers an experience they will always remember in terms of sports events management. So we expect that everybody will get the services they haven't seen in this country.
We look forward to taking on the next or immediate event scheduled for around March 2021. So we call upon all corporates to join hands to improve the game of futsal and give athletes a chance to excel and also have endorsements equally earned from their efforts," said Norbert Kazibwe.
The partnership comes off the back of a series of deliberate efforts by FAU to get more inclusive, market and promote the game of futsal through, but not limited to constituting a number of different level competitions across the board albeit each with distinct standards and expected impact.
The business marriage aims at bridging the evident gap between technical expertise, operations logistics, gate collections, marketing and promotion.
Much of the information in this article is attributed to Futsal website.
About Author