Cricket Cranes flagged off to Namibia for Castle Lite series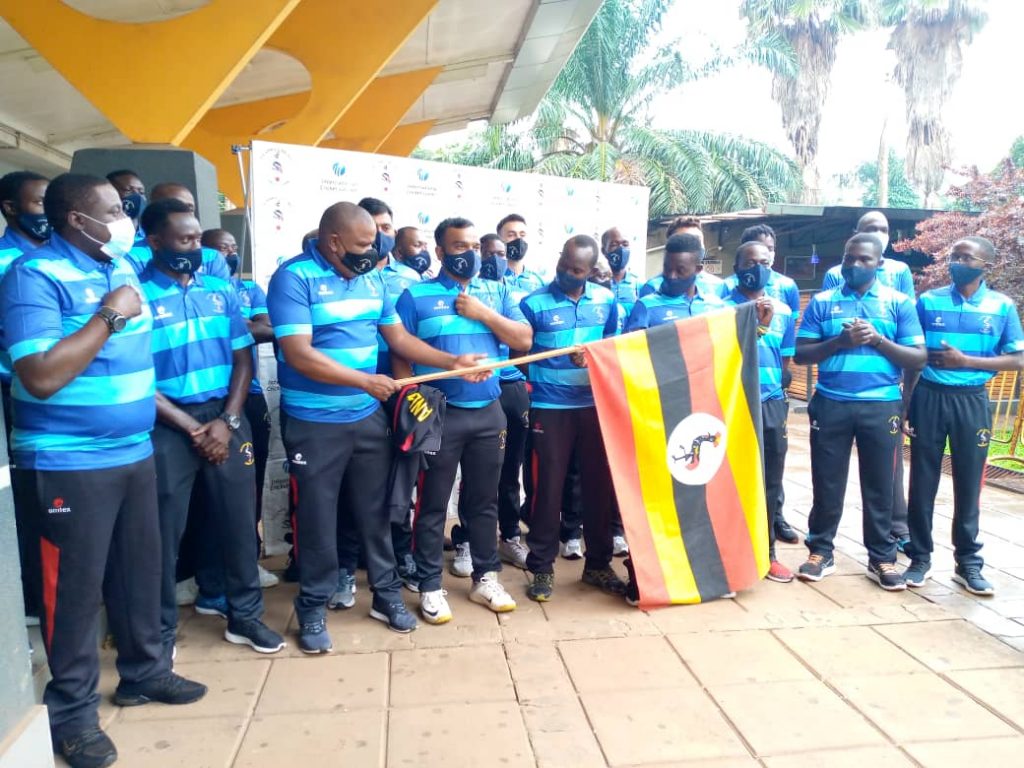 National Council of Sports (NCS) general secretary Dr. Benard Patrick Ogwel flagged off the Uganda's Cricket Cranes to Namibia for the Castle Lite Series against Namibia.
The flag off held at NCS headquarters in Lugogo on a went morning of Monday, the 29th March 2021.
"As a country, our ladies and men in sports have been participating well and I hope you keep the fire burning.
I have on a regular basis seen the team training hard and there has been hard work and discipline amongst players and officials." Benard Patrick Ogwel.
The Cricket Cranes will battle Namibia in the bilateral series scheduled to run from April 2nd – 9th in Windhoek. The series will gave five matches, three of whom are T20 Internationals and two 50-over (Limited Over) matches penciled in.
Both countries are preparing for challenging international engagements in the next couple of months with the Namibians just seven months away from their T20 World Cup campaign in India, while both countries are preparing for 2022 T20 World Cup qualifying, and are deep into 2023 World Cup pathways events.
Uganda is currently atop the ICC World Cricket Challenge League B after an incredible run out, winning five out of five in Oman in 2019 and also looking forward for a T20 global recognition on the African continent.
Cricket Cranes 21-man contingent is set to arrive in Windhoek on Good Friday and will play a T20I in the afternoon on Holy Saturday. They return to the Wanderers Cricket Ground on Easter Monday with two highly-anticipated T20s that will form the core of the series and forthwith have ICC ranking status.
"It's been a hard process and we are thankful to NCS for the support and guidance throughout the preparations.
We have never been at the ADI status and it's good we have this chance to elevate. We are going there not to participate but compete to improve our ranking which stands at 31st position.
Go out there and raise our flag high as you work hard to accomplish the mission." Said Martin Ondeko.
A squad of 19 players and seven officials is to enter a bio-bubble in Entebbe tomorrow soon after getting the mandatory COVID-19 testing. There will be another testing on Wednesday before the final 14 man squad and seven officials flies to Namibia on 2nd April.
Full squad
Frank Akankwasa, Gerald Mubiru, Trevor Bukenya, Jonathan Ssebanja, Frank Nsubuga, Simon Ssesaza, Robak Patel, Fred Achalam, Kenneth Waiswa, Riazat Ali Shah, Cosmas Kyewuta, Dinesh Nakrani, Henry Ssenyondo, Emmanuel Hasahya, Arnold Otwani (Vice captain), Brian Masaba (Captain), Roger Mukasa, Saud Islam, Ham Bagenda Kayondo
Officials
Laurence Mahatlane (Ciach)
Jackson Ogwang (Assistant coach)
Habiba Kulthum Anguyo (Physiotherapist)
Alvin Bagaya Mboijana (Team Analyst)
Innocent Ndawula (Media Manager)
Jackson Kavuma (Team Manager)
Richard Okia (Selector)
Martin Ondeko (Head of Delegation)
About Author