Cranes Returns Home After Six Days-Training Camp In Dubai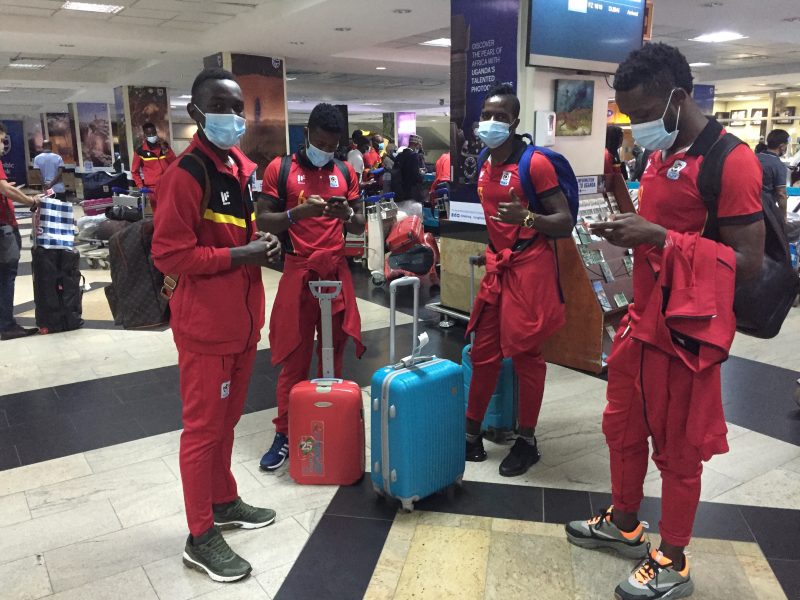 By: Kayiira Jackson
After six days in United Arab Emirates capital, Dubai for training Camp, Uganda National football team, the Cranes safely returned home on Tuesday morning.

Ahead of AFCON double header qualifier games against neighbors South Sudan in November 2020, Uganda Cranes held a six day training camp in Dubai that ended yesterday and today, Tuesday 13th touched down at Entebbe International Airport.
Jonathan McKinstry, Uganda Cranes head coach emphasized players both from foreign clubs and local should their bodies in shape because he is to summon the team again before the end of October.
Uganda Cranes will host South Sudan on 12th November 2020 before traveling for the away match a few days later.
The Federation will release the detailed programme and updates relating to the two matches.
Most of the foreign based players traveled back to their clubs apart from Allan Kateregga and Joseph Benson Ochaya and the former set to go back next week.
The Uganda Cranes contigent that returned to Uganda.
Charles Lukwago (KCCA, Uganda), Joel Mutakubwa (Kyetume, Uganda), Milton Karisa (Vipers, Uganda), David Owori (SC Villa, Uganda), Bright Anukani (KCCA, Uganda), Saidi Kyeyune (URA, Uganda), Paul Mbowa (URA, Uganda), Samuel Kato (KCCA, Uganda), Halid Lwaliwa (Vipers, Uganda), Ibrahim Orit (Vipers SC), Shafiq Kagimu (URA, Uganda), Karim Watambala (Vipers, Uganda), Joseph Ochaya (TP Mazembe, DR Congo), Allan Kateregga (Erbil SC, Iraq)
Officials:
Leader of Delegation: Ronnie Kalema (FUFA Executive Committee member)
Johnathan McKinstry (Head coach), Abdallah Mubiru (Assistant Coach), Livingston Mbabazi (Assistant Coach), Ibrahim Mugisha (Goalkeeping Coach),Felix Ayobo (Sport Scientist), Emmanuel Nakabago (Doctor), Regan Innocent Baluku (Doctor), Samuel Mulondo (Kitman), Geoffrey Massa (Team manager), Paul Mukatabala (Team officer), Ronald Lusulire (Media Officer
About Author