Bika Football Update: Defending Champions Mbogo, Nte And Other Four Register For 2020 Edition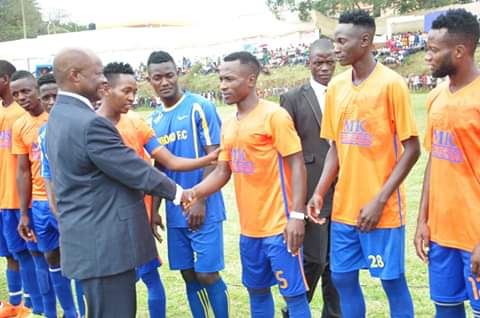 Bika Football competition reigning Champions Mbogo clan and 2016 & 2017 Champions Nte are among the six clans that have registered for 2020 edition today.
The others are Nyonyi Nyange, Nvubu, Buttiko, and Mutima Muyanja. These join Mamba Kakoboza, Musu, Nkusu, Kibe, Mpeewo and Ngo who confirmed participation yesterday, and Ffumbe, Nkima, Nkejje and Nsenene who were the first clans to register on Tuesday.
This year's registration is conducted online after a resolution by the Bika Football Committee to register this year's competitors using online platforms due to the COVID-19 pandemic Lockdown, the response from team managers has proved to be positive as four clans have so far confirmed participation by registration.
Bika Football Committee Chairman Hajji Suleiman Magala announced four stadiums including Muteesa II Stadium-Wankulukuku, Kabaka Kyabaggu Stadium in Wakiso, IUIU-Kabojja and Lubiri Play Ground to be used this year.
The Buganda Minister for Youth, Sports and Recreation Henry Ssekabembe Kiberu earlier this month informed the Kingdom subjects and team managers that the opening dates and venue for this year's edition will be announced shortly after the lockdown lift by the Katikiro Charles Peter Mayiga.
Last year's edition opener was held St. Nazareth Kavulu play Ground in Mawokota on Saturday, the 11th May as Musu shout out a star paraded Mutima Muyanja by 10-9 after a one all normal time draw.
Badru Nsimbe Jibril (Musu) second half equalizer cancelled Ivan Mayanja's early first stanza strike to send the game to spot kicks.
Mbogo is the defending Champion after a 1-0 victory over Kkobe in the final played at Masaka Recreation Ground in Buddu on Saturday, the 31st August 2019.
The then Bright Stars on form striker Nelson Ssenkatuka scored the only goal in the game as Mbogo humbled the 10 man Kkobe.
Past Bika Tournament winners
1950: Mbogo
1951: Ngabi Nsamba
1952: Mmamba Gabunga
1953: Not Held
1954: Not Held
1955: Kkobe
1956: Mmamba Gabunga
1957: Nyonyi Nyange
1958: Ngeye
1959: Mmamba Gabunga
1960: Ffumbe
1961: Bbalangira and Kkobe
1962: Nkima
1963: Not Held
1964: Mmamba Gabunga
1965: Mmamba Gabunga
1987: Ngabi Nsamba
1988: Lugave
1989: Mmamba Gabunga
1990: Lugave
1991: Ngeye
1992: Ngeye
1993: Nkima
1994: Mmamba Gabunga
1995: Lugave
1996: Mpindi
1997: Nnyonyi
1998: Lugave
1999: Lugave
2000: Mpologoma
2001: Ngo
2002: Mpologoma
2003: Mmamba Gabunga
2004:Lugave
2005: Ffumbe
2006: Mpindi
2007: Ngabi Nsamba
2008: Kkobe
2009: Ffumbe
2010: Nte
2011: Mmamba Gabunga
2012: Ngeye
2013: Ngabi Nsamba
2014: Mmamba Gabunga
2015: Mbogo
2016: Nte
2017: Nte
2018: Nkima
2019: Mbogo
About Author