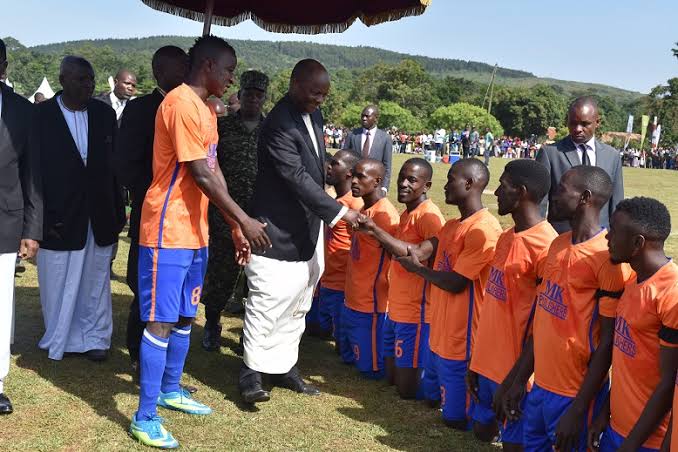 Today's results
Mbogo 0(5)-0(4) Ffumbe
Omutima Omusagi 1-1 Ngo
Ngeye 1-0 Nseenene
Omutima Omuyanja 2-1 Ngoonge
Mbogo have overcome Ffumbe in the quarter-final after a 5-4 penalty win following two stalemates over two legs
The first leg ended in a 2-all draw at Kasana ground in Luwero on Wednesday, the 2nd August before this evening's goalless draw.
The winner Mbogo was decided in spot kicks in a 5-4 win for Mbogo. Sula Mpanga missed Ffumbe's spot.
Enock Walusimbi and Muhammad Senoga Kagawa scored for Ffumbe whilst Mbogo scored through Farouk Sekayi and Jovan Mwanje
David Kakeeto scored twice as his side Omutima Omuyanja registered a slim 2-1 win against Ngoonge. Richard Ssonko scored Ngoonge's goal.
Ngoonge advances to the Semi-final with a 5-3 aggregate score after their 4-1 triumph in the first leg.
At Wankulukuku, Omutima Omusagi drew 1-1  against Ngo to advance to the Semi-final with a 6-2 aggregate score.
Ivan Ssemujju (Ngo) and Shakib Mayanja (Omutima Omusagi) scored in today's draw.
The first leg ended 5-1 in favor of Omutima. Shakib Mayanja grabbed a hat-trick as Raymond Lusajje netted a brace for Mutima. Joseph Ssemujju converted from the spot.
In the last quarter-final Reagan Tigan Kirumira scored the only goal of the game as Ngeye beat Nseenene 1-0.
Ngeye progressed to the Semi-final on a 2-1 aggregate. The first leg ended 1-1.
About Author