Beach Soccer: Uganda Sand Cranes, Emmanuel Alex Wasswa fly high in the released world rankings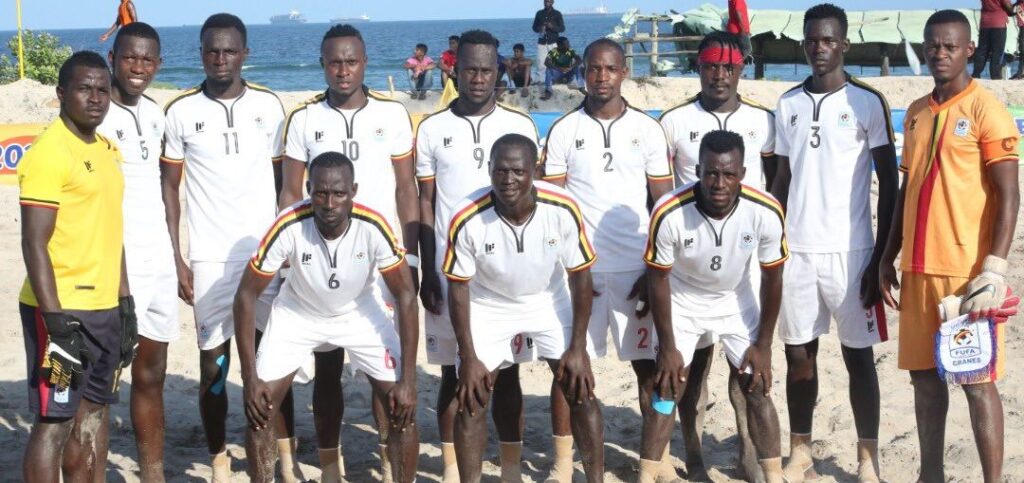 Uganda Sand Cranes and player Emmanuel Alex Wasswa made a cut onto the world's best in the released Beach Soccer World Wide (BWW) rankings.
Released today Tuesday, 21st September, Uganda jumps from the 86th to 38th place onto the log with 277 points.
The rank comes after a well decorated representation at the recent Beach Soccer Africa Cup of Nations in Senegal where Uganda bowed out at the semi final stage losing to Africa's number 4, Mozambique.
African most decorated nation and champions Senegal who are also the world's number 8 is Africa's best (2278) points. Morocco, Egypt Mozambique Nigeria and Uganda sit second, third, fourth, fifth and 6th respectively.
The same body (BWW) ranked Uganda's Emmanuel Alex Wasswa amongst the world's best top 100 Beach Soccer players of 2021.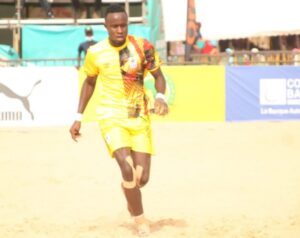 Wasswa was so instrumental in Uganda's splited fight to the semi finals of the 2021 Senegal Africa Cup of Nations tournament.
The 100-player list will be cut down to three according to votes from coaches and captains.
The shortlist for the best Beach Soccer player of the year released, is made up of the 100 world's top notch figures in the game according to a panel of beach soccer experts.
Captains and coaches of the national teams and clubs who have competed in Beach Soccer World Wide competitions over the last year will decide who is the best, casting their votes during the coming weeks.
The final three nominees are to be announced at the end of October, with the winner being revealed at the Beach Soccer Stars Gala at the Intercontinental Beach Soccer Cup in Dubai.
The previous winners of the award, in order, are Bruno Xavier, Madjer (2), Mauricinho, Llorenç Gomez and Jordan Santos, the last three of which appear in this season's shortlist.
The complete list of nominees is as follows.
Aaron Clarke (ENG)
Abu Azeez (NGA)
Ahmed Beshr (UAE)
Ahmed Elshahat (EGY)
Aleh Hapon (BLR)
Alexey Makarov (RUS)
Amir Akbari (IRN)
Anatoly Ryabko (BLR)
Andrei Negara (MDA)
Andrii Pashko (UKR)
Anton Shkarin (RUS)
Antonio José Mayor Hernández (ESP)
Antonio José Namape Junior "Figo" (MOZ)
Artur Paporotnyi (RUS)
Be Martins (POR)
Boris Nikonorov (RUS)
Bruno Torres (POR)
Carlos Alfredo Carballo Ruiz (PAR)
Cem Keskin (TUR)
Christian Biermann (GER)
Christopher Toth (USA)
Dario Ramacciotti (ITA)
Dejan Stankovic (SUI)
Diogo Catarino (BRA)
Dmytro Voitenko (UKR)
Edson Souza Miranda "Hulk" (BRA)
Eduard Suarez (ESP)
Elinton Andrade (POR)
Eliodoro Portillo (SLV)
Eliott Mounoud (SUI)
Emeka Hego Ogbonna (NGA)
Emmanuel Alex Wasswa (UGA)
Exon Bladimir Perdomo (SLV)
Fedor Zemskov (RUS)
Filipe Duarte Da Silva (BRA)
Francisco Jesús Donaire López (ESP)
Frank Velásquez (SLV)
Gabriele Gori (ITA)
Gaston Laduche (URU)
Glenn Hodel (SUI)
Heimanu Taiarui (TAH)
Iasuke Kawai (JPN)
Igor Borsuk (UKR)
Ivan Kanstantsinau (BLR)
Jackes Tamatoa Tetauira (TAH)
Javi Torres (ESP)
Jordan Santos (POR)
Joscha Metzler (GER)
Jose David Vizcarra Morales (MEX)
Josep Junior Gentilin (ITA)
Khaled Al Araimi (OMA)
Leo Martins (POR)
Leslie St. Fleur (BAH)
Li Fung Kue (TAH)
Llorenç Gómez León (ESP)
Lucas Ponzetti (ARG)
Lucas Tadeu Araujo Azevedo "Lucao" (BRA)
Luis Alberto Quinta Acuña (URU)
Luiz Alberto Do Nascimento Braga "Datinha" (BRA)
Maksiim Chuzhkov (RUS)
Mamadou Sylla (SEN)
Mandione Diagne (SEN)
Mauricio Pereira Braz De Oliveira "Mauricinho" (BRA)
Mikita Chaikouski (BLR)
Mohamed Al Jasmi (UAE)
Mohammad Ahmadzadeh (IRN)
Mohammad Moradi (IRN)
Nassym El Hadaoui (MOR)
Ndiaye Al Seyni (SEN)
Nelson Joao Manuel (MOZ)
Nestor Medina (PAR)
Nicolas Bella (URU)
Nicolas Perera (USA)
Niou Jean Paul Diatta (SEN)
Noel Ott (SUI)
Oleg Zborovskyi (UKR)
Oleksandr Kornichuk (UKR)
Osmar Moreira "Ozu" (JPN)
Patrick Pietrasiak (POL)
Pedro Morán (PAR)
Phillip Borer (SUI)
Quentin Gosselin (FRA)
Rafael Padilha (BRA)
Raoul Mendy (SEN)
Rodrigo Soares Da Costa (BRA)
Roman Pachev (UKR)
Rubén Batres (SLV)
Salvador Ardil Navarro (ESP)
Sander Lepik (EST)
Seyed Peyman Hosseini Largani (IRN)
Simone Del Mestre (ITA)
Stanislav Kosharniy (RUS)
Takaaki Oba (JPN)
Takuya Akaguma (JPN)
Valon Beqiri (GER)
Victor Angeletti (FRA)
Walid Beshr (UAE)
Walid Mohammad Mohammadi (UAE)
Yauheni Novikau (BLR)
Yuri Krasheninnikov (RUS)
About Author