Bamweyana Despondent With Wasted Chances in Villa Draw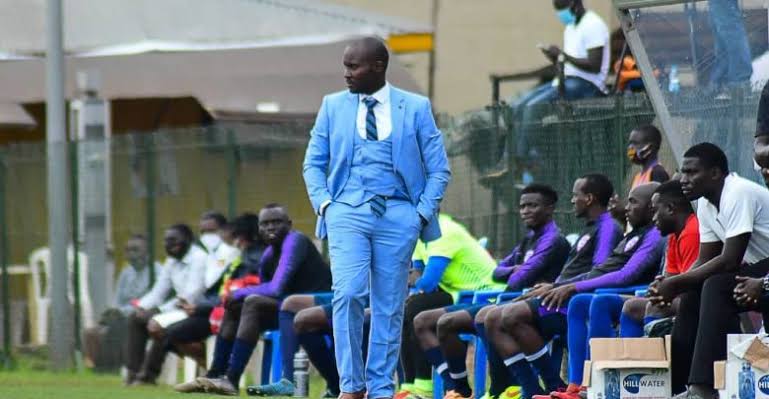 Wakiso Giants head coach Douglas Bamweyayana is cheerless after his side's sixth stalemate in seven games played this season.
The purple sharks dominated their game against the 16 record champions Villa for the largest time of the in a Uganda premier league tie held on Wednesday, 17th February 2021 at Kabaka Kyabaggu Stadium in Wakiso.
The Purple Sharks created bountiful scoring opportunities, however, innumerable of them were wasted and hence a 2-2 draw against the jogoo who came from a two goals deficit to earn a point.
Bamweyana's Wakiso Giants put up a well coordinated first half show, springing into an early 2-0 lead through a towering forward Kipson Atuhairwe in the 11th minute and SC Villa's defender Joseph Nsubuga own goal in the 28th minute.
"It is one of the most painful draws one can ever contemplate. We could easily score 12 or so goals," Bamweyana sadly told the press after the game.
"We squandered innumerable chances because in the first half alone we could have scored three, eight or plus and so in the second half. We got chances to score goals and we didn't."
After an entertaining first half with countless attacks into SC Villa goal with high intensity and pressure, the visitors got ignited and pushed the hosts to receiving ends to play a totally defensive game.
Villa's agile Salim Abdallah scored eight minutes into the second half with a beautiful turn and shot taken outside the box to usher in the visitors back into the game.
Edward Kaziba's faction kept on threatening to find the second on the day but Wakiso Giants's custodian Samson Kirya was one in the crowd with fanciful saves to deny his former bosses joy.
Towards the extremity of the game, Salim's effort yield as the midfielder strike past Kirya in the added time. The agile's shot came in similar fashion as the first as the young star completed a well deserved brace on the day.
"Yah! we wasted a lot of chances but still we had gotten a healthy lead of 2-0 which could have secured us a win. This is a game we only had to show a little bit of composure and maturity in defence."
"We had repeated errors here and there, kicking the balls direct to them in our own area but on a general note they never deserved to take anything away from this game," Bamweyana concluded.
Wakiso Giants sit in 11th position on the 16-team log with nine points while SC Villa are seventh with 11 points.
The Purple Sharks will trek to URA FC on Saturday 20th February 2021 while SC Villa host a sinking Kitara at Bombo on the same day.
About Author