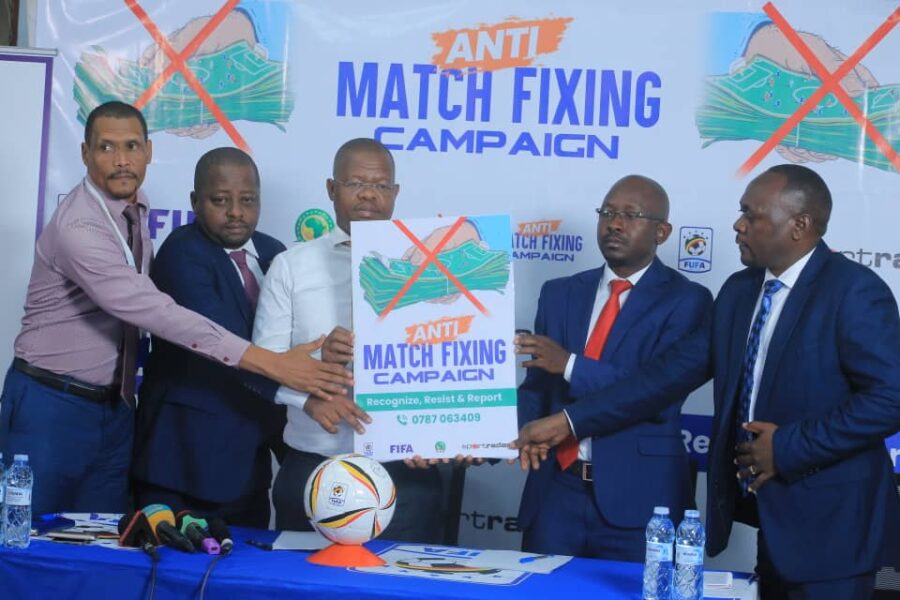 The Federation of Uganda Football Federation (FUFA) has on Monday launched an anti-match fixing campaign aimed at curbing the vice.
While launching the campaign, FUFA President Hon. Magogo Moses Hassim indicated there is will from the Federation to stop the persisting challenge.
"We are here to launch an anti-match fixing campaign and this is an opportunity for us to read from the same page as FIFA who are at the fore front of this battle."
"We are aware that the more you promote football, the more you expose it to challenges and equally we must find solutions to them," he started.
"Football today is facing a problem of match manipulation just like the wider society is faced with challenges like hunger, terrorism and money laundering."
"Match fixing kills the game because the beauty of football is in uncertainty. If you kill this element and results are predetermined then the game will not survive."
#AntiMatchFixing pic.twitter.com/FvYDDMtyaC

— FUFA (@OfficialFUFA) March 13, 2023
The President also stated it is the Federation's duty to fight match fixing and certain measures have been put in place.
"Whereas the players and match officials are the easiest targets, as FUFA we are coming up with measures that will desist anyone involved in the game from match fixing. A phone number (0787063409) and email address protect@fufa.co.ug have been put in place and whoever has information can report to us." He said.
The President also revealed that for the next month, FUFA will give amnesty to anyone who has been involved in match fixing and can come out to denounce the vice. The Immunity will be in line with the football regulations.
FUFA CEO Edgar Watson highlighted how FUFA will reach out to the general public through sensitization programmes aimed at fighting match fixing.
"Today's press conference is just the start of a long-term programme. Going forward, FUFA will embark on media campaigns to educate the masses, print out education material, reach out to clubs and coordinate with other Member Associations to interlink information," The CEO stated.
The other measures will include, stopping games from taking place if there is sufficient evidence and withdrawing of players or match officials from games if cited in any match fixing scenarios prior.