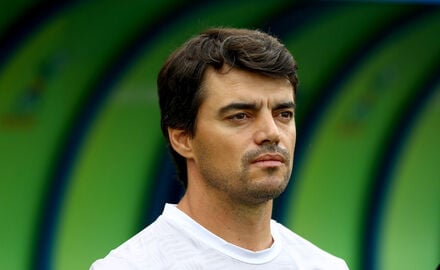 Ahead of Angola's first game at the TotalEnergies CHAN 2022 against Mali, head coach Pedro Gonçalves wants his side to approach the tournament with the belief that they can go all the way to the final on February 4.
Palancas Negras are a team that are rebuilding with a couple of young faces as well as senior players who are expected to provide guidance at the competition organized for players that feature in the domestic league.
Angola reached the CHAN 2011 final losing 3-0 to eventual winners Tunisia in Sudan and even though it is more than a decade ago, Gonçalves has borrowed from that performance to motivate the current team.
"We have a fine balance in the team. For us, it is important that we do well. What we wish to do and what we can do, there is a big gap but I can say that we are positive ahead of our first game against Mali. "
"A lot has changed since 2011 but we are encouraged by that performance," explained Gonçalves.
The former Angola U17 coach who qualified them to their first ever FIFA U17 World Cup in Brazil in 2019 wants to write more history with this side in Algeria.
Even though he is without striker Ambrosini Salvador Zine who was in Brazil and present in the CHAN 2022 qualifiers but recently signed for Greek side AEK Athens, Gonçalves will be looking to other options upfront including Laurindo Dilson Maria Aurelio commonly known as Depu and Joao Diogo aka Julinho.
"We have other players that are very good and evaluated each one. We have a great team here in Algeria and want to do a good job at the tournament. We had some great friendly games in Portugal against teams from there and Switzerland, and we shall implement what we learnt about the team at the tournament," he added.
Angolan football has been on the rise in recent years and the qualification of both Sagrada Esperança and Petro du Luanda in the CAF Champions League group stages last season with Petro reaching the semifinals, the expectations are high from the fans back home.
For Gonçalves and Herenilson, it is a chance to continue building on that success.