Ugandan riders get heroic welcome home.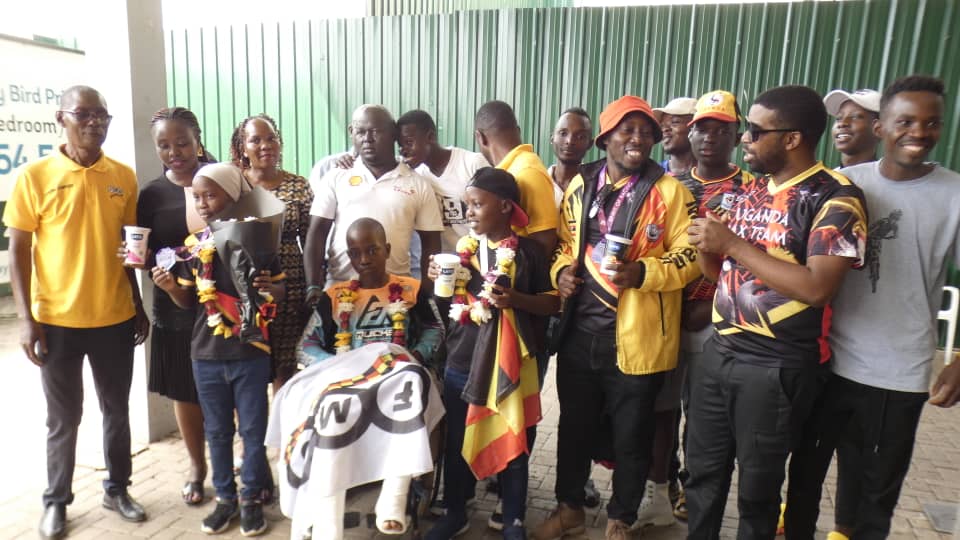 STORY BY HENRY MBAZIIRA
EMOTIONAL erruptions with tears dropping at Entebbe International Airport were witnessed, as parents and Federation officials welcomed back the gallant riders that represented the Country at World Junior Motocross championship in Romania.
First, was Gift Ssebuguzi's mother, Nulu Nabaweesi, on seeing him being pushed in wheelchair at arrival tunnel.
Emotional erruptions resurfaced when Gift Ssebuguzi, and cheif- de mission George Ssemakula,who doubled as rider parent, while addressing the media.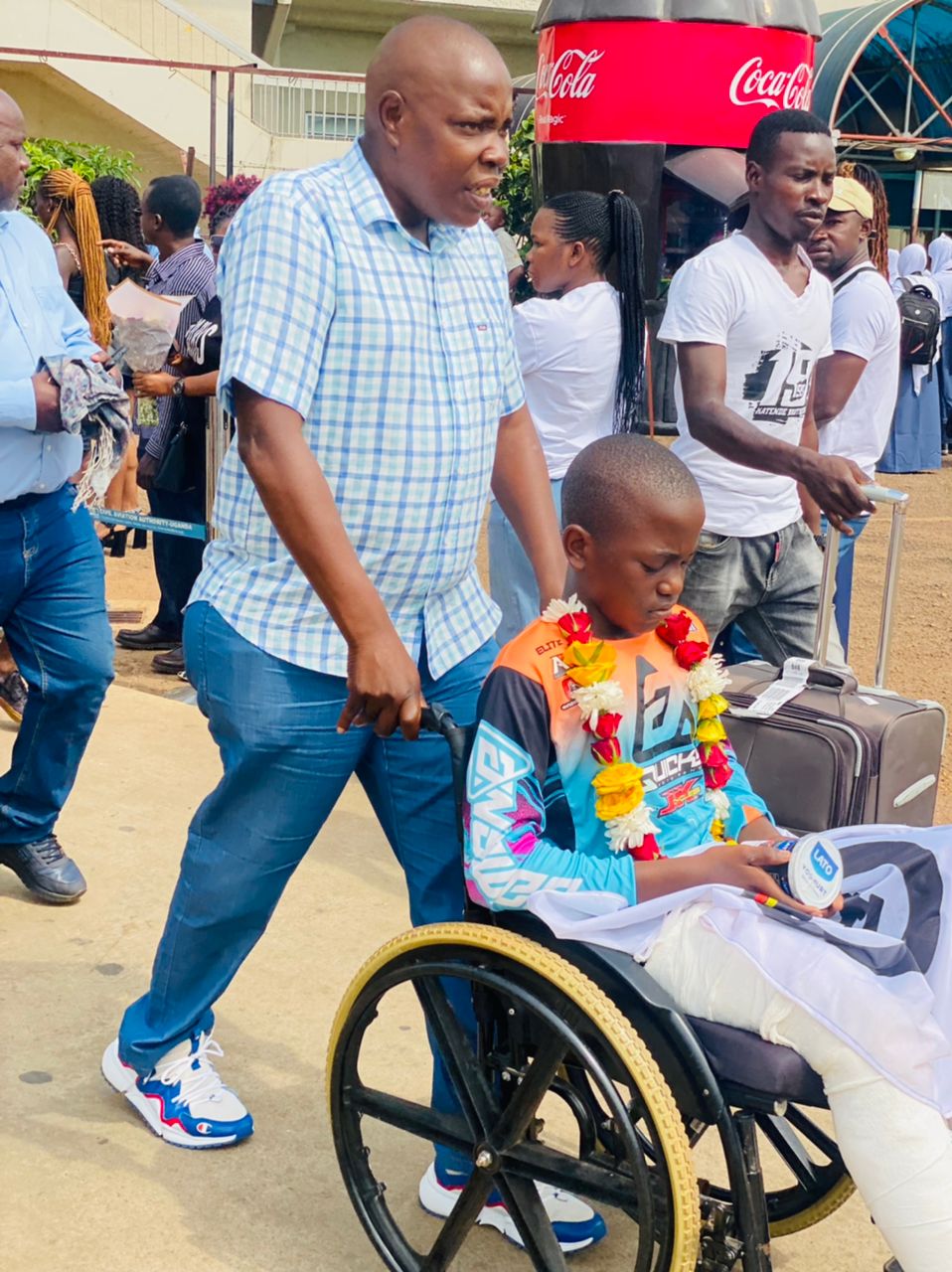 Gift broke down when he labored to explain what happened to him prior to the qualifiers, a thing that indicated soulfulness in his heart for having missed representing his country.
Another time, is when Ssemakula was giving an account of how things happened,the hundles our riders went through at world championships.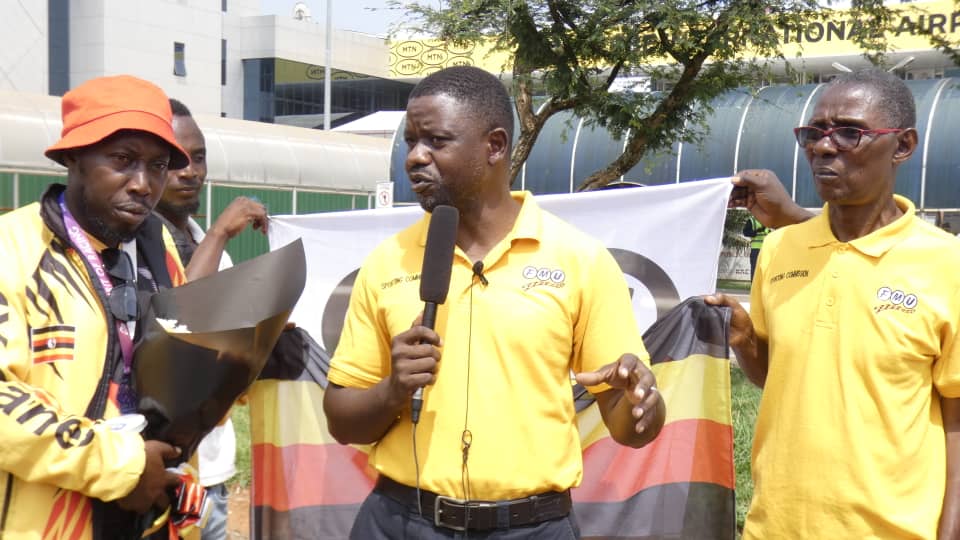 " What I can tell you, riders at the world championships are terrifically fast, making it through the qualifiers, is like being through a baptism of fire on race track," explained Ssemakula with tears dropping down his chicks.
Ssemakula added, there few negative energies from some motocross WhatsApp groups after Gift's accident.
After composing up, he applauded the riders for their zealous showcase at world championships, FMU for the support and other sponsors who bridged all the other deficits.
Jonathan Katende,said after failing to make it to the finals in 65CC, he resorted to prayers to see that his brother, Miguel Katende qualifies, a thing the latter achieved.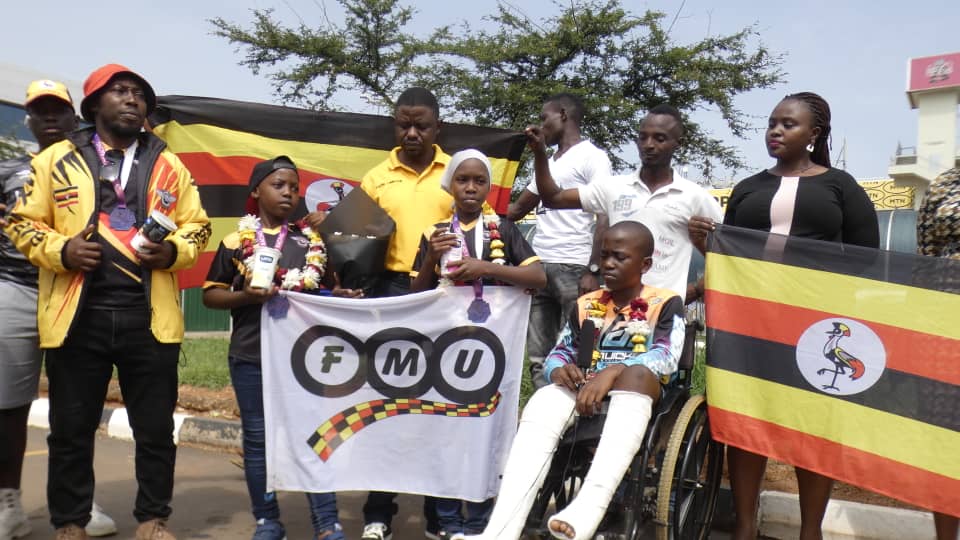 " After Gift's incident, we were all scared, our hopes were almost shattered, only thought of prayers," Jonathan explained.
Miguel, who rode on a two-stroke KTM bike, had to race his heart to finish fifth in 65CC last chance qualification, save petition that was filed by Romanian team against two riders, one from Poland and other from Finland, who had infringed the yellow flag rule.
Komosa Maksymillian and Arkonsuo Taavi were slapped with a 10 position time penalty that pushed them to 11th and 13th position finishes respesctively.
This chanced Miguel to qualification amongst top four in the Last chance qualifier,and managing to finish 36th out of 40 at finals of MX65.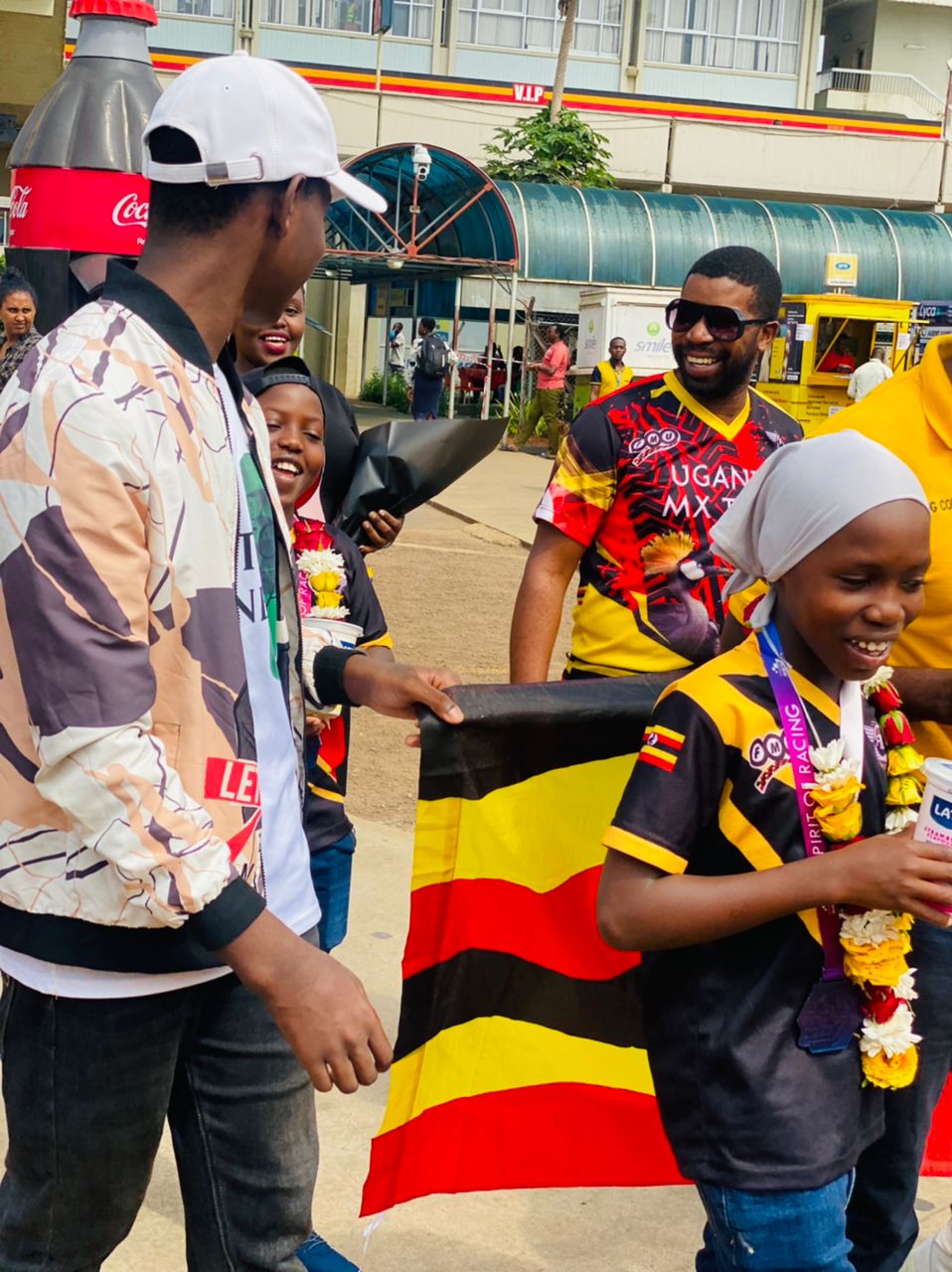 "There's a time when I thought Miguel was headed for a big crash, after pushing so hard,luckily when he fell while running fifth he didn't break a bone,"intimated Ssemakula.
On welcoming them back, FMU deputy vice president Motocycling, Kisitu Mayanja piled lots of praises to riders who wrote history at world championship.
Mayanja further thanked parents and FMU management, for all the support rendered to the team, as he also looks foward to forthcoming FIM-AFRICA Motocross of African Nations set to be held in Cape Town, South Africa in August.
Reynold Kibira deputy vice president Motorsport FMU, applauded the Federation for dream come true,for sending a team at world championships, that they hatched way back after hosting the FIM-MXOAN in August last year.
Next race on block is FIM-AFRICA Motocross of African Nations set for 11th- 13th August,2023.
About Author