Pepsi University Football League: MUBS targets semifinal spot as they host Kyambogo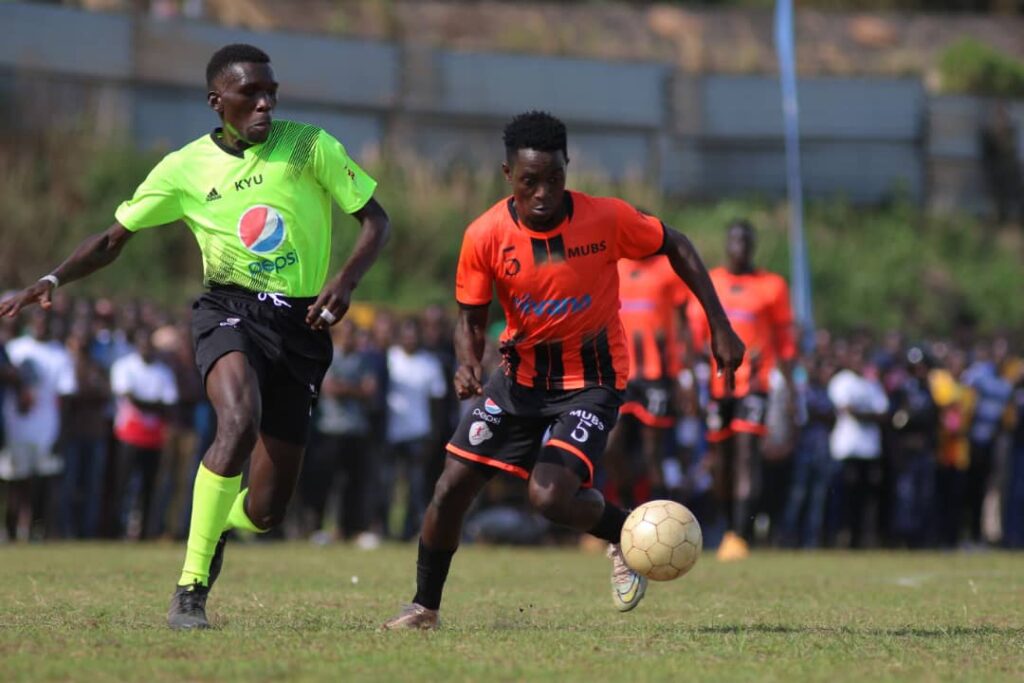 Quarter-Final: Second Leg
MUBS (2) vs (1) Kyambogo
Tuesday 11th October
3pm, Nakawa
Two-time champions Makerere University Business School and one-time champion Kyambogo University meet on Tuesday in Nakawa for the second leg of their quarter-final tie to determine who between them will join St. Lawrence University, Uganda Martyrs University and Uganda Christian University in the semi-finals of the 2022 Pepsi University Football League.
In the first leg that was played a fortnight ago in Banda, MUBS came from behind to win 2-1 thanks to two goals very late in the game from Ssengendo Sharif in the 86th minute and Nazar Benjamin in the 90th minute of the game.
The result was MUBS first ever win at Kyambogo in the Pepsi University Football League and stretched their unbeaten run against Kyambogo to five wins and three draws.
Coach Lobo Christopher is however confident that Kyambogo can turn the tie around if they play the same way they did in the first leg.
"I think we played really well in the first leg. We controlled the game for most of the 90 minutes but we lost concentration in the last few minutes and MUBS were able to capitalize on that and they punished us," Lobo said.
"But it's not over yet. As I said we played better. And if we play the same way we did in the first leg and I know we can win. The records don't favour us in this fixture but records are meant to be broken and though it will be tough I know we can do it at Nakawa," Lobo added.
MUBS comes into Tuesday's game with a perfect run having won all their previous seven games this season and will be looking to continue that run.
Although MUBS will be without head coach Ayiekoh Charles is finalising his transfer to Tanzania to manage the Simba Queens, Assistant Coach Zinda Ali believes they will manage without him.
"As you know our coach Ayiekoh has gotten a fanstastic opportunity in Tanzania with Simba Queens so we shall be without him for this game. This will not stop us however. We are going to manage without him and I believe we shall go all the way to the Final and lift the trophy," Zinda said.
"The first leg was not easy. The truth is we didn't play well but fortunately we managed to win with two very important away goals. So our objective in the second leg is to make sure we win and progress to the semi-finals,"
"In the first leg the boys had not prepared well enough but over the last two weeks we have worked on our game and I can say we are very ready for Kyambogo on Tuesday," Zinda said.