Gomba are 2020 Masaza Cup edition champions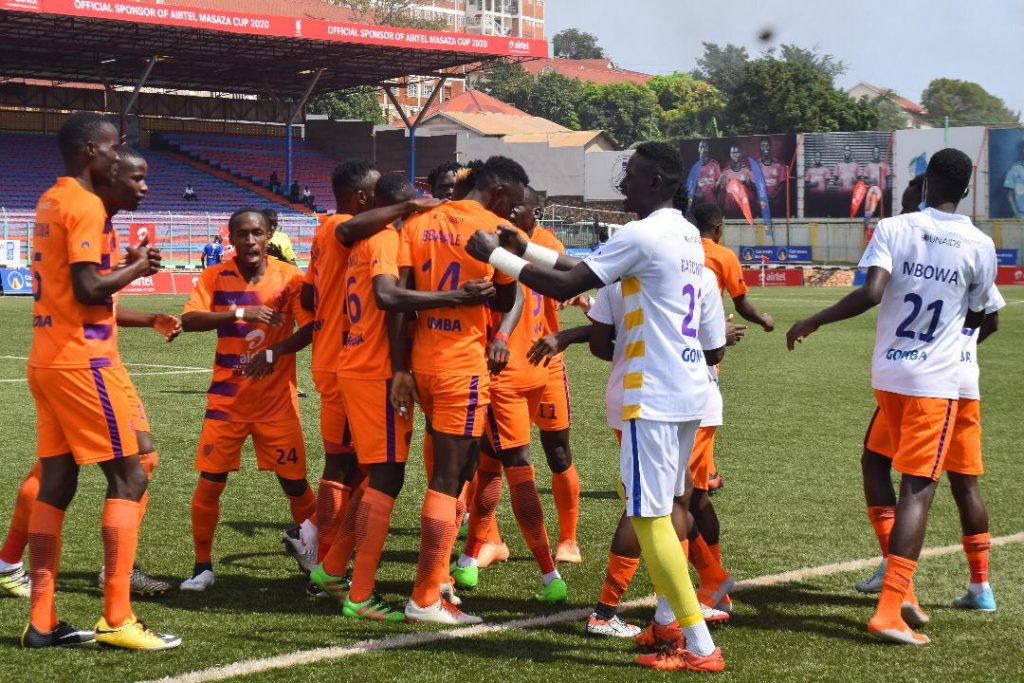 All time champions Gomba beat 2016 winners Buddu 3-1 to claim their 5th tournament in history.
The final was played on Saturday 6th March 2021 at St. Mary's Stadium in Kitende before the Buganda premier Charles Peter Mayiga who represented his Majesty Kabaka Ronald Muwenda Mutebi Kimera II.
Gomba forward who was also the tournament's top scorer with 8 goals Charles Bbaale opened the scoring in the 2nd meet before Titus Sematimba cancelled shortly in 8th minutes to make 1-1.
In the 12th minutes, Gomba's George Kaddu answered back with a streamer free kick to send Gomba into a 2-1 lead.
Defender Gift Fred sealed Gomba's victory with the third just after 18 minutes of play as the latter claimed their 5th trophy.
The events today started with a classification match between last edition's champions Bulemezi and runners up Busiro which Busiro won by 5-4 after penalties following a goalless draw in the normal time.
Gomba headed into today's final with a very rich history on their back and held a great pedigree compared to Buddu.
Gomba are 2004, 2009, 2014, 2017 and 2020 champions in the history of the tournament.
Road to final.
Gomba and Buddu advanced to quarterfinals as leader and runner up of Muganzirwazza group respectively. Gomba led the group with seven points as Buddu settled for the second place on (7) points with a goal difference disadvantage.
In the quarterfinal stage, Gomba eliminated Bugerere to storm semi-finals. Gomba fought back to beat Bugerere 2-1 in a tight quarterfinal fixture. Second half goals from Charles Bbaale saw Gomba reach the semifinal.
Whilst Buddu beat Mawokota 2-0 to reach semi-finals. Substitute Farouk Ssekayi and Marvin Kavuma scored a goal each late in the second half to power Buddu into the semifinals.
In the semi-finals, Gomba eliminated the 2019 runners up Busiro by 5-4 in penalties after a goalless normal time. Forward Malida Kuteesa missed Busiro's spot kick.
On the other hand, Buddu piped reigning champions Bulemezi 1-0 in the semi-finals to reach third final. Forward Titus Sematimba scored the only important goal for Pokino boys.
Team Line Ups
Gomba XI: Francis Anguzu (G.K -18), Hamis Kefero Dagada (2), George Kaddu (16), Abdallah Ssentongo (26 – Captain), Fred Gift (17), Fred Atuhwera (13), Ali Bayo Arshavin (6), George Kiryowa (15), Jackson Ssemugabi (11), Junior Juma Lutakome (9), Charles Bbaale (14)
Subs: Peter Katongole (G.K – 1), Derrick Mbowa (21), Ashraf Zizinga (10), Isaac Musiima (20), Colline Seruwu (7)
Buddu XI: Farouk Yawe Ssebanja (G.K – 18, Captain), Angello Kizza (15), Edward Namasa (4), Gideon Odongo (13), Missi Ssemugera (6), Fahad Nsamba (12), Titus Ssematimba (10), Sharif Ssengendo (5), Marvin Kavuma (7), Jibril Nsimbe (21), Frank Sebuufu (14)
Subs: Nazir Obbo (1), Farouk Sekayi (11), Jovan Mawejje (8), Emmanuel Mwesigwa (9)
Masaza Cup previous Winners:
2019 – Bulemeezi
2018 – Singo
2017 – Gomba
2016 – Buddu
2015 – Singo
2014 – Gomba
2013 – Mawokota
2012 – Bulemeezi
2011 – Buluri
2010 – Not Held
2009 – Gomba
2008 – Kyadondo
2007 – Mawokota
2006 – Kooki
2005 – Mawokota
2004 – Gomba
About Author