AFCON 2021: Burkina Faso up for victory against Ethiopia as Cape Verde face off with Cameroon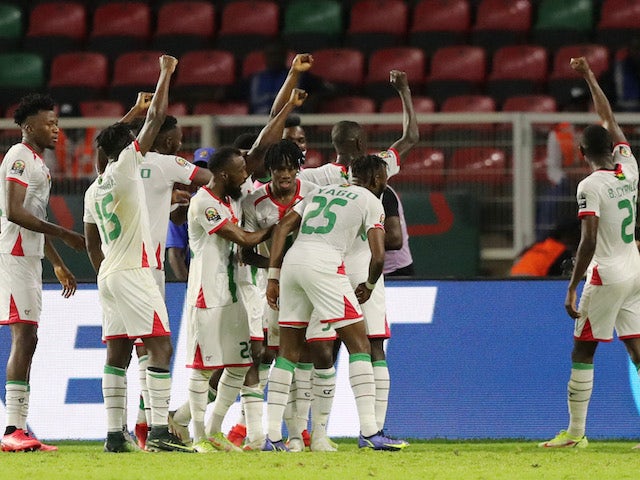 Burkina Faso will fancy their chances when they take on Ethiopia in group A matchday three at the Kouekong Stadium in Bafoussam on Monday.
The Stallions edged 1-0 past Cape Verde following an opening match 2-1 defeat to hosts Cameroon.
On three points, Burkina Faso knows another win means they will go through.
A draw might do it, but they would have to wait the result of the simultaneous game between hosts Cameroon and Cape Verde.
Having won their only head-to-head AFCON encounter over Ethiopia 4-0 back in 2013 when they reached the final, Burkina Faso will have history on their side.
For Ethiopia, they scored first against hosts Cameroon, but were dazzled by a home side backed by the home side backed by their enthusiastic crowd to fall 4-1 down.
That came after another 1-0 loss to Cape Verde in the opening day, which left The Walias with nothing in hand after two matchdays.
Now they should just play for a win and wait to see if they can manage a place between the best four placed teams.
Elsewhere, Cape Verde will hold their hope of reaching the next round when they face hosts Cameroon.
Cape Verde are looking for only one way out; to win and qualify for the next round.
The Blue Sharks will take inspiration from their last encounter against Cameroon.
Both sides were in the same group in the qualifiers, and their last meeting saw Cape Verde winning 3-1 last March.
Cape Verde succumbed to a 1-0 defeat against Burkina Faso after an opening day win over Ethiopia. A point might be enough, but they would have to wait for other results to be in their favor.
Meanwhile, two wins in as many matches guaranteed path to the Round of 16 for hosts Cameroon.
And now the Indomitable Lions are seeking to end the group on maximum points to confirm their good run and their favorites status.
About Author