USSSA Fresh Diary Games: St. Noa, Taggy, Rines riot in a goal scoring spree day one of Wakiso qualifiers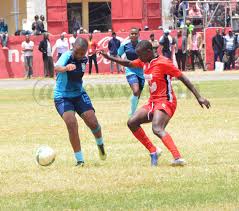 It was goals galore in day one of Wakiso district/region Uganda Secondary Schools Sports Association (USSSA) Fresh Diary Games qualifiers
National and East African Secondary Schools girls football champions St. Noa Girls Secondary School-Zana, Wakiso district reigning champions and finalists Rines SS shined the most in day one.
St. Noa Girls-Zana registered the biggest win of the day. They White washed Rachde High School in a 15-0 emphatic victory in their group C opener.
The Zana based side scored though Rebecca Nyakake (4), usual tormenter Sylvia Kabene with a hat-trick and a brace from speed merchant Miriam Ayo "aka" Bajaji and Imelda Kasemire.
Sarah Bibirye, Esther Babirye, Titie Nakyeyune and Winniefred Kwatulira complemented with a goal each as the FEASSSA and National champions sent a solid statement in the opener.
The Wakiso district reigning champions Taggy High School started title defence with a landslide 8-0 victory against helpless Light Secondary and Vocational School Bulenga.
Sherina Nantongo, Justine Kinsumbya, Charity Katusiime and  Sharifah Nakigudde scored a goal each as charismatic forwards Zaitun  Namaganda and Naigaga Kamiyat grabbed a brace in the massive win.
Rines SS, who are also the Wakiso district reigning first runners up wrote the second biggest win to their name.
In their second game, Taggy sailed over Makerere High School 9-0. Zaitun Namaganda and Kamiyat Nayigaga were both on a hat-trick as Sherinah Nantongo grabbed a brace and a goal from last year's young hero Gloria Nasuuna.
In the other day's big win, 2022 Wakiso finalists Rines SS thumped Wampeewo Ntake 13-0 to embark onto their road to this year's final.
The games kicked off on Tuesday, 28th  in Entebbe municipality and will climax on 1st   April with the finals to be held at WAKISHA headquarters in Wakiso district.
Taggy High School-Entebbe are Wakiso district reigning champions.
They labored past Rines SS in a 4-2 win after penalties following a 1-all normal time draw in the epic final.
Kamiyat Nayigaga scored for Taggy High in early minutes of the game before Eve Naggayi leveled matters to force the game to penalty spots.
Selected Day one results
St. Noa 15 – 00 Rachde High School
God Cares 02 – 01 Alliance
Rines 13 – 00 Wampewo Ntake
Fairway 0 – 0 Watoto
Taggy High School 8-0 Light Secondary and Vocational School.
About Author