UPDF FC piles more misery onto newbies MYDA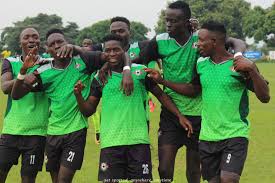 Uganda People's Defence Forces football club (UPDF) piled more misery onto newbies Malaba Youth Development Association (MYDA) football club with a 3-0 win at King George Stadium, Tororo on Friday 11th March 2021.
Robert Eseru, Brian Kalumba and lanky forward Davis Kasirye were on target with a goal each to cement the army side 3-0 win.
Eseru opened the scoring in 26 minutes as visitors UPDF acquired a 1-0 lead before Brian Kalumba doubled to end the first stanza with a 2-0 advantage.
Lanky forward Davis Kasirye sealed UPDF's win with the third just 16 minutes into the final half.
The loss to the host MYDA confirms that the newbies are the only side yet to win a game this season after Busoga and Kitara won their first recently.
Today's maximum points for UPDF pushed them to 24 points. The army side remained 6th after winning 8, losing 6 and drawing non in 14 games.
MYDA have drawn three and lost 11 in 14 to occupy the bottom of the 16 team log.
Vipers SC lead the table on a goals difference advantage tied on 30 points with URA FC before they meet tomorrow at Arena of Visions in Ndejje.
About Author