The Corporate league returns after two years of halt under the theme dubbed "Wekuume"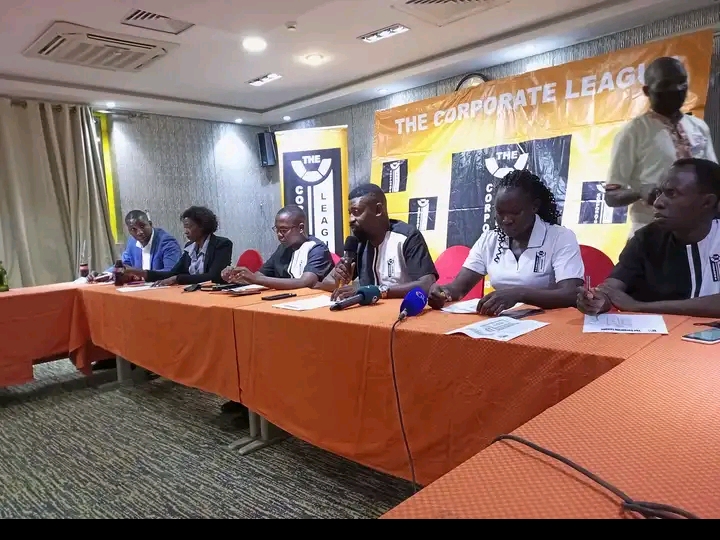 After two-years of halt due to COVID-19 lockdown, the Corporate league returns following the full opening of the economy by the Head of State.
The was launched on Tuesday, 1st February 2022 at Hotel Africana in Kampala.
The 20th edition is set to tee off on Saturday 27th February 2022 at Kyambogo University sports ground under the theme "Wekuume", a sensitization campaign to create awareness, prevent and control the spread of COVID-19 in communities.
This year's league comes along side a cemented partnership with KCCA, UNICAF University and MED Bedside Care Group.
The partnership will foster an undertaking of two Social Responsibility Projects for COVID-19 sensitization in the slum communities, prevention, vaccination and testing campaign name tagged "WEKUUME".
While addressing the media at the launch, the league's Chairman Board of Directors Dennis Mbidde asserted that this year's edition will kick off with a massive vaccination campaign for member company employees and their families along with the Kampala vulnerable communities.
"Like any other institutions, we have gone through a tough period at both institutional and individual levels. After 20 years of consistent performance, we put our worst memories behind us and look forward for a better future together", Mbidde.
Mbidde further revealed that a total of 40 companies have already confirmed participation and he's optimistic more will join before the kick off.
To participate in this year's edition, everyone must have a COVID-19 vaccination card and other Standard Operating Procedures (SOPs) shall be strictly adhered with.
Members shall also have a company ID and an NSSF number to participate in the various games.
The games have various sporting activities on the menu card including woodball, Netball, Soccer, Basketball, Athletes, Volleyball, Swimming, Tag of War, Bottle/ Sack racing, Pool among others.
At the launch held at Hotel Africana in Kampala, the Corporate League Limited ushered in a new executive during an election process.
Nile Breweries' Diana Muttu emerged the league's chairperson for the next two years replacing Boaz Nabimanya of Hotel Africana.
Julius Ikwete of MTN Uganda became the Vice Chairman, Vision Group's Alex Balimwikungu (Publicity Secretary) Ismael Lukooya from Coca-Cola, Discipline and Red Cross' Irene Nakasiita and NSSF's Edison Katemba as Committee members.
About Author