Gomba, Buddu face off in an arduous Masaza Cup final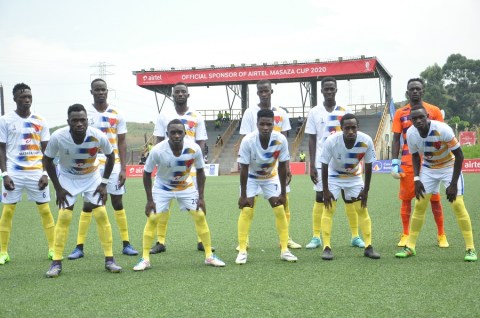 The 2020 Masaza Cup tournament will climax today Saturday 6th March 2021 at St. Mary's Stadium in Kitende with an arduous final tie between all time champions Gomba and 2016 winners Buddu.
The events today start with a classification match between last edition's champions Bulemezi and runners up Busiro who were eliminated from the semi final stage.
Gomba head into today's final with a very rich history on them and hold a great pedigree compared to Buddu.
Road to final.
Gomba and Buddu advanced to quarterfinals as leader and runner up of Muganzirwazza group respectively. Gomba led the group with seven points as Buddu settled for the second place on (7) points with a goal difference disadvantage.
In the quarterfinal stage, Gomba eliminated Bugerere to storm semi-finals. Gomba fought back to beat Bugerere 2-1 in a tight quarterfinal fixture. Second half goals from Charles Bbaale saw Gomba reach the semifinal.
Whilst Buddu beat Mawokota 2-0 to reach semi-finals. Substitute Farouk Ssekayi and Marvin Kavuma scored a goal each late in the second half to power Buddu into the semifinals.
In the semi-finals, Gomba eliminated the 2019 runners up Busiro by 5-4 in penalties after a goalless normal time. Forward Malida Kuteesa missed Busiro's spot kick.
On the other hand, Buddu piped reigning champions Bulemezi 1-0 in the semi-finals to reach third final. Forward Titus Sematimba scored the only important goal for Pokino boys.
Facts.
• Gomba has played in 8 finals winning four and losing four in the process.
• Buddu has featured in three finals. They have won one in 2016 against Gomba. It ended 6-5 after penalties following a 1-all draw in the normal time.
• Buddu lost all their two finals against Ssingo 5-0 in 2015 and 12-11 after a 1-1 normal time draw in 2018.
• Gomba has won against two and lost to three sides in the final. They won Mawogola 3-0 in 2004, 1-0 in 2009, 4-3 after penalties against Ssingo following a goalless normal play in 2014 and a memorable Nicholas Kabonge long range strike in a 1-0 victory against Ssingo in 2017.
The two sides last met in 2018 edition's semi-final return leg at Masaka recreation. Joseph Janjali scored against his parent team Buddu to give Gomba a 1-0 win.
Gomba went ahead to win the spot kicks after a 1-1 aggregate score after two legs. However, the first leg in Kabulasoke was aborted as fans forcefully entered the pitch to contest a controversial Buddu goal.
Masaza Cup previous Winners:
• 2019 – Bulemeezi
• 2018 – Singo
• 2017 – Gomba
• 2016 – Buddu
• 2015 – Singo
• 2014 – Gomba
• 2013 – Mawokota
• 2012 – Bulemeezi
• 2011 – Buluri
• 2010 – Not Held
• 2009 – Gomba
• 2008 – Kyadondo
• 2007 – Mawokota
• 2006 – Kooki
• 2005 – Mawokota
• 2004 – Gomba
About Author