Buddo SS, Kitende, London College, Madinah Islamic in emphatic victories on day one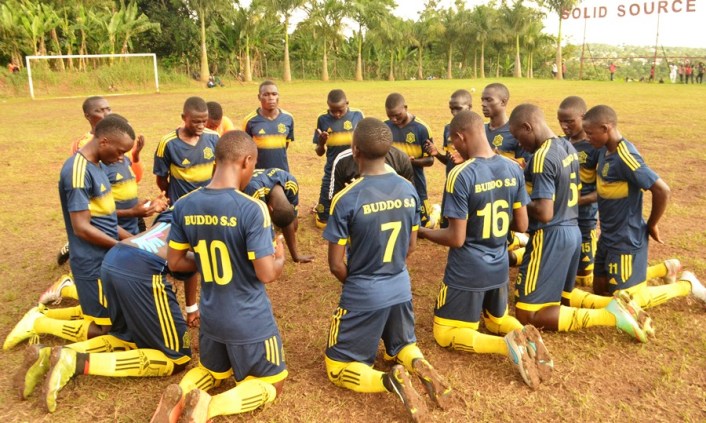 It's rained goals as Wakiso district giants Buddo SS and St. Mary's Boarding Secondary School-Kitende started their road to Fort-Port with emphatic victories on day one of Wakiso qualifiers.
This was the opening day of the Uganda Secondary Schools Sports Association (USSSA) national qualifiers for Wakiso district/region held in Entebbe zone.
National reigning champions St.Mary's  Kitende beat  BullworthBulworth Integrated School by 12-0 in their opener.
Abubakari Walusimbi and Elias Kiyemba both scored hat-tricks as Olimi and Steven Yiga grabbed braces
Two stars  Habibu Oloya and Enock Luyima complemented with a goal each to seal the win on a  a very wet morning.
Buddo SS started with a convincing 2-0 win over Matugga based City Land College in their group A opener.  Andrew Otim and George Kato scored a goal each for Buddo SS.
The 2018 National and FEASSSA champions Buddo SS ran riot over Kinaawa High School in a 15-0 emphatic victory in their second engagement.
Dennis Kisiriko  scored five (5) times,  two hat-ticks from George Kato and Jimmy Kalema, a brace from Mathias Kasadha and a goal by Andrew Otim and George Isingoma each sealed Buddo SS emphatic victory.
Elsewhere, London College Nansana thumped Kinaawa High School 11-1 in the day's third biggest score.
Madinah Islamic registered two convincing victories. They opened up with a 3-1 win against Entebbe zone champions Boston High School.
In the second game, Madinah Islamic beat Matugga zone representatives  Cityland College by 5-0
St. Mary's Boarding Secondary School-Kitende are the reigning Wakiso district and national champions.
Only two top teams from each group shall qualify for the quarter-final stage of the championship.
Wakiso district/region will have five schools  qualifying for (USSSA) nationals in Fort Portal city of Kabalore district set to be hosted at Nyakasura School in May 2023.
Day on results
Madina Islamic 3-1 Boston High School.
Madinah Islamic 5 : 0 City Land
Green light 2 : 0 Boston
Lake View SS 1-1 Kawanda SS
Lake View SS 2-1 Andy Mwesigwa SS
London college Nansana 5-0 Bullworth.
Kinaawa 1 : 11 Green Light
Kasule 2-0 Andy Mwesigwa SS
Kawanda SS 7-0 Wampeewo Ntake
Kasule 3-2 STAHIZA
Royal College 1-1 Kyadondo SS
St. Julian 4-1 K. Garden Grove
Kisubi Mapeera 1-0 Namugongo Vocational
Kyadondo SS 3-0 K. Garden Grove
Kisubi Mapeera 0-4 Royal College
Namugongo Vocational 1-2 St. Julian
London College 4-0 Aiden College
Light High Seguku 0-0 Abu Aisha
Bulworth 1-4 Aiden College
Kitende 3-0 Light High Seguku
Abu Aisha 3-2 London College
About Author