Beach Soccer: Nicholas Mwere, Najib Muwoonge shine in match-day two as Jinja Lions, Mutoola, KJT register victories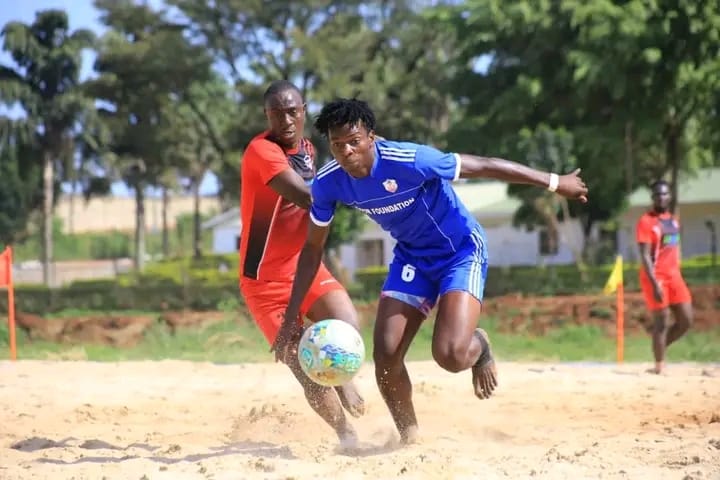 Jinja Lions, Mutoola, Kampala Junior Team (KJT) were big winners during match-day two of the 2022/23 FUFA Beach Soccer league season.
Jinja Lions Beach Soccer Club registered a comfortable 2-0 win against Kiringente, KJT beat Wolves and Motoola overcame MUBs.
All games were played at FUFA Technical Center in Njeru, Buikwe district.
Nicholas Mwere scored twice in Jinja Lions BSC's 2-0 victory over Kiringente BSC to register the second successive win of the season.
In the second game of the day, Mutoola BSC won a 3-1 against MUBS BSC.
Herbert Abima, Sharif Apuuli, Paul Nsege were the scorers for the winners while MUBS BSC's only goal was scored by Isma Kawawulo.
The third game of the day was between Kampala Junior Team BSC and Wolves BSC as the later suffered a second successive defeat of the season.
Najib Muwonge scored three times for Kampala Junior BSC and a strike from Stewart Kaffuluma as it ended in a 4-3 score line.
Ramadan Ongen scored the two goals for Wolves BSC , and the third coming from Julius Ssentamu.
The would be fourth game between Grace Church BSC and KIU BSC was not played as the later did not turn up for the fixture.
The league returns next weekend on 5th February 2023 with five games on the menu card.
MS Sand Lions will battle Kiringente BSC, defending champions ST Lawrence face Buganda Royal Institute, Mutoola to lock horns with Jinja Lions, KIU BSC meet MUBs whilst KJT BSC play against Grace Church BSC.
Sunday 29th Results

Jinja Lions BSC 2-0  Kiringente BSC
Wolves BSC 3-4 Kampala Junior Team BSC
MUBS 1-3 Mutoola BSC
Grace Church Vs KIU @ Not played
Upcoming fixtures

February 5, 2023

MS Sand Lions vs Kiringente BSC
ST Lawrence BSC vs Buganda Royal Institute
Mutoola BSC vs Jinja Lions BSC
KIU BSC vs Mubs BSC
KJT BSC vs Grace Church BSC
About Author